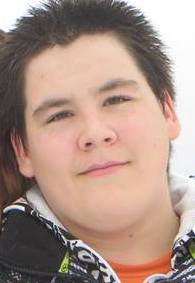 NEWS RELEASE
SAULT STE. MARIE
POLICE SERVICE
*************************
8:30 a.m. update
Shortly before 8:30 a.m. this morning officers from Patrol Services and the Emergency Services Unit located missing person Brandon Roussain and he is fine.
The Sault Ste. Marie Police Service would like to thank the public and the media for their assistance in the investigation.
*************************
Assistance with missing 15-year-old - original release
The Sault Ste. Marie Police Service is requesting the public's assistance in locating 15-year-old Brandon Roussain.
Brandon left his family's residence in the 300 Block of John St. between 4 and 5 p.m. and has not returned.
Brandon Roussain is described as heavy build, 5'7', 220 lbs, short brown hair wearing a colourful toque, dark brown glasses, a black bomber style leather jacket and old baggy jeans.
He was carrying two duffel bags with him when he left home.
Police are concerned for his well being and are asking anyone who may have seen or knows the whereabouts of Brandon Roussain to call police at 705 949-6300.
*************************