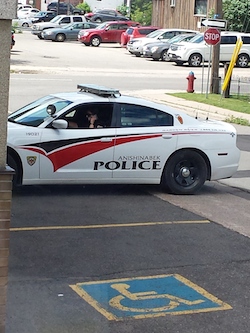 Anishinabek Police are conducting an internal investigation that could result in an officer facing disciplinary action after a bystander snapped photos of a cruiser parked in an accessible parking spot this week.
The bystander, who asked not to be identified, said they witnessed the cruiser parking in one of two accessible parking spots at a social services building at the corner of Albert Street and MacDougald near the end of the noon hour on Wednesday.
The Anishinabek Police cruiser stayed in the spot - the closest of two accessible spots at the location - for between 15 and 20 minutes while another vehicle with an accessible parking placard used the second spot, said the bystander, who also described seeing the second vehicle's driver walk around the cruiser to get to the building's entrance.
Insp. Mark Lesage, of the Anishinabek Police Service, said the department does not condone police use of accessible parking spots.
"We are happy that we have been made aware of the situation and we are going to be conducting an internal investigation into the officer's actions and they could be subject to disciplinary action," said Lesage.
The incident comes as the Sault Ste. Marie Police Service has launched an enforcement campaign targeting unauthorized vehicles found in accessible parking spots.
Staff Sgt. Jane Martynuck, of city police, said police are not exempt from parking infractions such as this, though she noted that it is possible an officer with a disability could use a temporary accessible parking permit on a cruiser.
The fine for parking in an accessible spot without the proper permit or failing to display the permit properly is $300 under city bylaw.
With files from Kenneth Armstrong.
*************************
Previous SooToday coverage of this story: