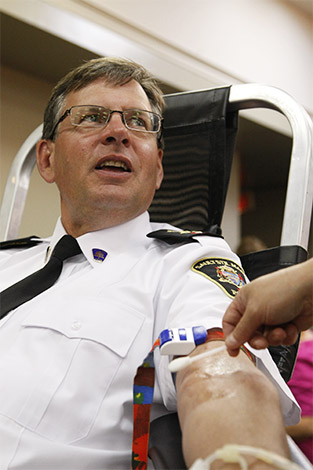 Sault Ste. Marie Police Chief Bob Keetch knew many of the Canadian Blood Service workers when he walked in to the blood clinic held at the Verdi Hall Wednesday afternoon.

The Canadian Blood Service office that conducted the clinic is based in Sudbury, his former city of residence.

"In a way this is a sort of homecoming," said Keetch, who noted some of the workers are even former neighbours of his in Sudbury.

First responders such as police, fire and paramedics see loss of blood on a regular basis and are sensitive to the need to have blood on-hand in the emergency room.

'It's something I have done in the past, I am a regular donor in sudbury. It's the most precious gift and costs nothing except for time," said Keetch, who was donating for his 56th time.

The EMS, police and fire services in Sault Ste. Marie are having a friendly competition called 'Sirens for Life' to see which service can donate the most blood over Tuesday and Wednesday.

The final tally has not been calculated, but Staff Sergeant Jane Martynuck noted that the police led the drive last year.

"Today is about giving back to the community," said Keetch.

Clinic Supervisor Heather Fantin said the clinic almost made their Tuesday goal and were still counting their goal for Wednesday.

"Yesterday our target was 96 and we collected 91 units, we had 115 show up but one reason or another they couldn't donate," said Fantin.

Fantin said that just one person involved in a motor-vehicle accident can use up to 50 units of blood in their recovery, each donation is counted as one unit.

"We are fortunate in this community to have the chief of police coming in to donate, he's setting the standard for the community," she said.
A news release issued by the Sault Ste. Marie Police Service follows.
**************************
As first responders police, firefighters and paramedics all see the need for blood first hand.
The Sault Ste. Marie Police Service is participating in the Canadian Blood Services Sirens for Life Campaign which is taking place in Sault Ste. Marie on July 22 and 23 at the Verdi Hall.
Today Police Chief Robert Keetch donated blood.
The Sirens for Life Campaign, allows staff from these three professions, along with hospital employees, to join together across Canada to ensure patients receive the blood they need this summer.
Did you know that just one patient with internal bleeding may need up to eight blood donors to help save their lives?
You can help out by donating blood: Call 1-888-2-DONATE to book your appointment to donate blood today.
**************************
(PHOTO: Sault Ste. Marie Police Chief Bob Keetch is prepped to give blood July 23, 2014 at the Verdi Hall. SooToday.com/Kenneth Armstrong)