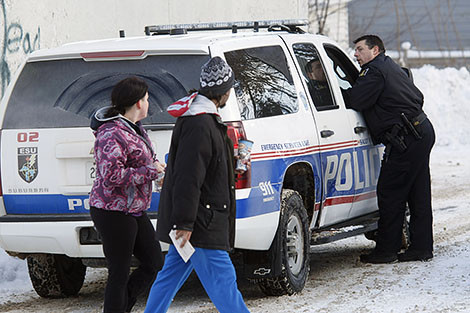 A news release issued January 8 by the Sault Ste. Marie Police Service asked local drivers to "reduce speeds and to be aware of very slippery conditions on local roads".

There were reportedly 15 vehicle accidents reported Wednesday between the hours of 6:45 a.m. and 3:10 p.m.

Although police haven't yet released the amount of collisions that have occurred Thursday, it seems at least one involved a vehicle of their own.

Police were observed at Grace Street and Bruce Street Thursday afternoon investigating a minor collision that resulted in minimal damage to the rear passenger-side door and surrounding area (shown above) of a police vehicle.

There did not appear to be any injuries at the scene and it is unclear who may have been at fault.
As stated in the police news release, mentioned above, "Please drive in accordance to the road conditions."