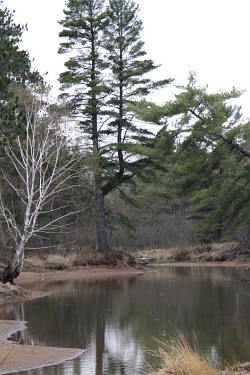 We may not have heard the last about the controversial Pointe Estates subdivision project.
The Sault Ste. Marie Region Conservation Authority, along with SSMRCA Board members, held its' 2013 Annual General Meeting Tuesday.
The meeting included the selection of City Councillor Brian Watkins as Board Chair for 2013, and City Councillor Marchy Bruni as Vice Chair.
The meeting began with a call from Board member Frank Manzo, City Councillor for Ward Six, for the Board to rescind a December 13, 2012 decision by Board members, in a 3-2 recorded vote, to allow the Pointe Estates project to move forward for City Council's consideration.
Outgoing Board Chair Ken Lamming told Manzo no such reversal can be made before 12 months have elapsed from the December 13, 2012 decision.
That launched a series of angry comments from Manzo toward outgoing Board Chair Ken Lamming, and later, with incoming Board Chair Watkins.
Manzo has consistently and hotly contested the Board's decision to go ahead with the proposed development, with claims that not only does the Board's approval trample on provincial regulations, but also claims from Manzo that a conflict of interest exists between project developer Jeff Avery and former SSMRCA Board Chair Lamming, saying the two are related.
The 91-lot subdivision proposal, put forward by Avery, of Avery Construction, has caused Conservation Authority staff considerable concern in regards to the effect it may have on the quantity and quality of wetlands in the area of proposed development and surrounding residential areas.
Pointe Estates would involve a parcel of land bordered by Pointe Aux Pins Drive, Dalgleish Road, the St. Mary's River, Alagash Drive and Pointe Louise Drive.
It would cover more than 200 acres of land and consume about 100 acres of wetland.
Peter Gagnon and Rick Gartshore, residents of the area adjacent to the proposed development, were present at Tuesday's meeting, along with lawyer Helen Scott.
Also in attendance was Sault Ste. Marie, Michigan-based hydro geologist Frank Breen, who penned a 540-page report for the Conservation Authority expressing environmental concerns about the Pointe Estates subdivision project.
Breen's findings, in a December 2011 report, can be found on a concerned citizens' website at www.pointesprotection.org
Breen spoke to SooToday.com after Tuesday's meeting and told us that he is not for or against the Pointe Estates project, but that in his view the project poses potential risks for the area's water supply. He added he is not comfortable with the project going forward without a thorough hydro geological study.
Peter Gagnon told SooToday.com "there are 23 outstanding issues regarding the science that we have requested from the developer that has never been provided, but the Board still approved it."
He added "there's still a legal opportunity to challenge this, but that involves generating funds, so we have to make that decision. The Board has not rescinded their decision because they have suggested they need 12 months before they can revisit it, but Robert's Rules of Order (a parliamentary-style guide book used by Conservation Authorities, City Councils and many other governing groups) doesn't say that."
Gagnon said "the original Sault Ste. Marie Conservation Authority staff recommendation states that the development will cause the pollution of the upper aquifer."
"As a result of the 91 septic systems that are going to be in there, there will be pollution of the upper aquifer plus pollution of the canal, which will then run down and pollute everyone that's along the shore of Alagash, and basically pollute the upper St. Mary's River. It'll cause E. coli and other sicknesses."
Gagnon said "Mr. Avery was asked to counter that and do a study… he didn't do that. He didn't do enough well analysis to meet Ministry of Environment standards. He didn't do that, but the Board still passed it."
Gagnon continued by stating "provincial regulations say there shall be no development in a wetland over two hectares in size. This is a 45 hectare wetland that will be destroyed."
Gagnon told us "we have retained Helen Scott as a lawyer to advise us in our options throughout this process because we are concerned, and we need legal advice to see what our options are."
Scott told SooToday.com after Tuesday's meeting she would not be proceeding with any legal action yet but said "I stand ready to represent the concerned residents, and I'm willing to proceed if they choose to instruct me to do so."