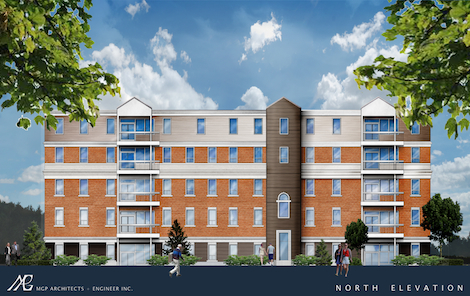 The developer behind a new condominium project at the former Plummer Memorial Hospital site says his company could begin taking orders as soon as Tuesday for 40 planned luxury units.
A request for a Planning Act exemption involving subdivision of the lot - which developer Amit Sofer told SooToday.com is typical in a redevelopment situation like this - is set to go to council at Monday night's meeting, after which, TVM Group hopes to be able to begin a 'soft launch' which will see it begin selling the units.
"The suites are likely to be something that is unfamiliar to the Sault," said Sofer, TVM Group's president. "We're bringing a very high-end quality lifestyle availability that we couldn't find when we looked around and we feel we're bringing it at the best location."
Toronto-based TVM Group picked up the surplus waterfront property from Sault Area Hospital last year for $65,000 after the asking price for the nearly 20-acre site plummeted from a high of $4.9 million.
Since then, TVM has been busy gutting the former Plummer portion of the property - removing non-load-bearing walls, mechanical and electrical systems - to make way for the condos.
"It's just a shell at this point," said Sofer.
He said the former Riverview building is expected to be torn down within the next two weeks.
As for TVM Group's decision to go high-end with the Plummer site, Sofer said the company assessed the market and saw a need for high-end residential, which is what he said will emerge on the property.
"It's beautiful. It's right on the water. It's beside a gorgeous hub trail," said Sofer.
Units will range from about 830 square feet to just under 1,800 square feet and will include one, two and three-bedroom suites, with high-grade appliances, quartz countertops and as many as three washrooms.
The building will include a movie-screening room for residents, sauna, steam room and exercise/yoga room with units starting at $224,900.
Sofer said TVM Group has asked the city for approval to apply a "significant" tax incentive that is part of its Downtown Community Improvement Plan to condo owners' residential taxes, which would last for the first four years.
As part of the development, TVM Group has offered the city a roughly six-metre swath of green area along the hub trail, which is expected to allow for enhancements to the trail.
"We feel that's a win for everybody. For us, for the residents who are going to be in the units, for the city and for anybody who uses the hub trail," Sofer said.
A sales centre is slated to open at 756 Queen Street East in mid June and Sofer said a number of people have expressed interest in purchasing units.
Phase 2 of the site's redevelopment is likely to cover the former renal clinic, on the east end of the property, and could include a "higher-end food-oriented" component for the section overlooking the water and residential for the rest.
Sofer said that project is "some years away."
He said action on the General site is also years away, with no firm plan in place for that building as of yet.
"We're exploring a variety of ideas, but at this point it hasn't been determined what we're going to do there," Sofer said
"We look at it as a 10-plus-year project to get it to point where all of the work is done and completed," he said.