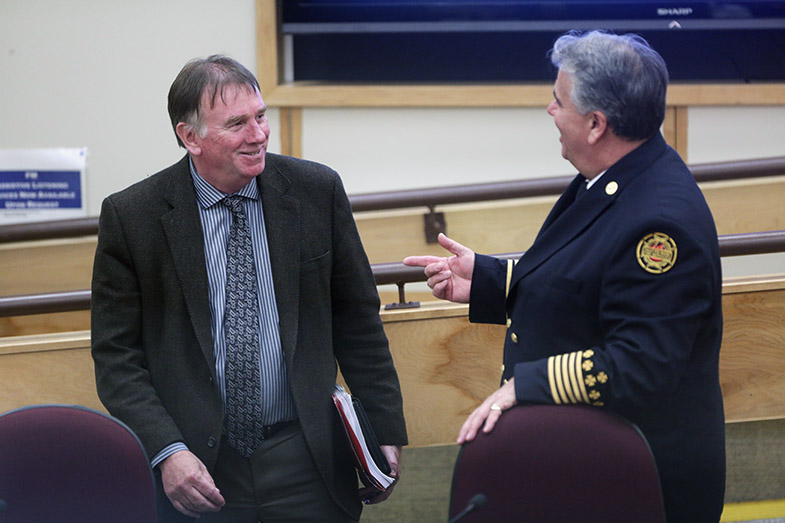 The Sault Ste. Marie Professional Fire Fighters Association (SSMPFFA) says the city is preparing to cut 25 percent of front-line fire suppression staff within the next three years.
Marty Kenopic, president of SSMPFFA, said the current fire chief has not replaced the five members of senior firefighting staff who retired within the last year.
In a meeting held Monday, chaired by new city CAO Albert Horsman, the association learned Fire Chief Mike Figliola is recommending the cuts.
"Monday's meeting was a bombshell. It's not just five, it's 20 positions. That amounts to about 25 percent of the fire department," said Kenopic.
The cuts will come in the form of attrition and new firefighters will not be hired in the next three years as up to 30 percent of the service is set to retire.
"Not replacing one position is too much. It puts the public at risk, it puts firefighters at risk" said Kenopic.
Money saved will be reallocated into EMS (emergency medical services) and the plan will go to city council Monday, said Kenopic.
"If there is a need to increase the EMS, [fire services] 100 percent supports that. We think public safety is not somewhere you want to cut services," said Kenopic.
Mayor Christian Provenzano said demand for EMS is on the rise and the city has not adjusted staffing models to reflect that.
"In the fire chief's opinion, we have more fire suppression officers than are necessary. So the fire chief is putting together a proposal to city council that would see a number of new positions created, both in fire and in EMS," said Provenzano.
The mayor added the decision does not come from a desire to decrease a budget, "this comes solely from the desire to ensure we are minimizing risk, not only on the fire side but also on the EMS side."
The mayor takes exception to the suggestion a decision by council may put lives at risk.
"I want to be clear that I don't accept that to be correct and I certainly wouldn't participate in a decision that puts anybody in the community at risk," he said.
SSMPFFA will ask council to defer the motion to give the association more time to prepare their counter position.
"We're not asking them to vote no, we are asking them to look at the information at hand and look at the consequences of reducing your fire services," said Kenopic.
The mayor said that is not how city councils operate.
"Staff — through in this case the CAO and the fire chief — report to city council. City council isn't an arbiter who sits and gives differing viewpoints, on a matter such as this, an opportunity to air their grievances and then make a decision. We take our information from our subject matter experts, we ask questions of our subject matter experts and we make a decision based on the information we receive," said Provenzano.
SooToday also attempted to contact Figliola and Horsman for this story.
This story will be updated with their comments should we receive a response.
Figliola scrapped a long-time 'hiring list' used by previous city fire chiefs to fill staff vacancies.
Previous fire chief Marcel Provenzano said Figliola's plans to scrap the hiring list was "shameful" in a previous SooToday article.
Provenzano also said there may be a ripple effect if the service does not account for the staffing shortfall, as the city is overdue for an assessment by the Fire Underwriter's Survey, who work on behalf of insurance companies to determine premiums.
His argument was with fewer firefighters, insurance rates in the city may skyrocket.
Mayor Christian Provenzano previously said it is the fire chief's prerogative to set hiring practices.
Between 1997 and 2012 the number of fires reported in Ontario fell by 41.4%, while the number of firefighters increased by 36.3%, according to a recent report by the Fraser Institute.
The same Fraser Institute report also states that while fire calls across the province may be down, non-fire calls are up.
Besides fighting fires, Sault Ste. Marie Fire Services also responds to confined space rescue, ice water rescue and hazardous materials spills.
The service's medical role has been growing in recent years, with firefighters acting in an EMS role in some situations, said Kenopic.
In a story last May, Figliola said the service was in the the business planning stages leading up to its 2016 budget, which will be presented to city council in the fall.
"Clearly there are huge budgetary pressures. We need to look at being as effective as we can. There's things we aren't doing that we should be and things we do we probably shouldn't be doing," Figliola said at the time.
(PHOTO: City CAO Albert Horsman speaks with Fire Chief Mike Figliola during a recent city council meeting at the Civic Centre. Kenneth Armstrong/SooToday)
Previous SooToday coverage of this story: