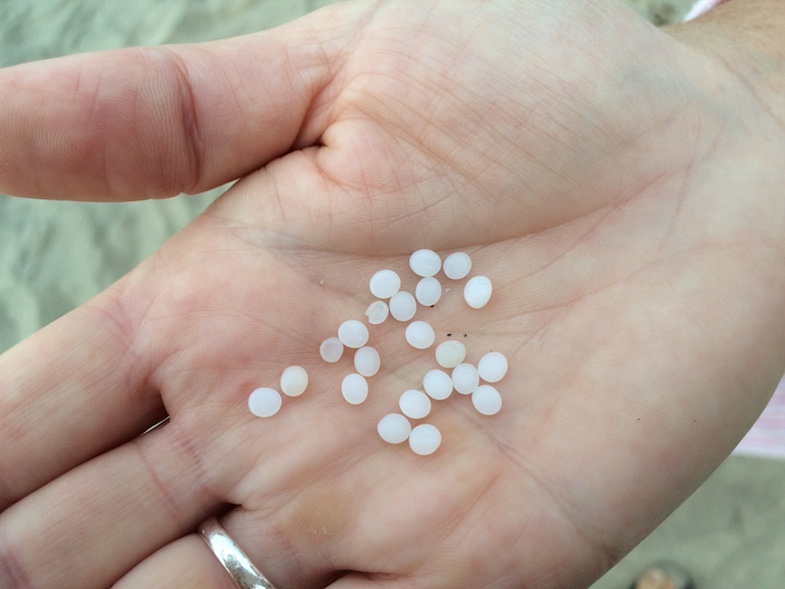 Government officials say they believe they know the source of plastic beads recently found washed up on Lake Superior shorelines.
Jeremy Frech, a loyal SooToday reader, sent along photos of the mysterious plastic pellets after spotting them at Pancake Bay and again at Sand River over the weekend.
He said he contacted Ministry of the Environment and Climate change officials about his find.
SooToday spoke with an MOE spokesperson, who said the beads are known to the ministry.
A train derailment near Terrace Bay, between Wawa and Thunder Bay, spilled the tiny pellets in 2008 and "despite all possible efforts" to contain them and clean them up, an unknown quantity of them got into the lake, said Kate Jordan, a spokesperson for the Ministry of the Environment and Climate Change.
She said the beads have since been periodically spotted along Superior's shorelines but so far, no harm to fish or birds has been documented.
The federal Department of Fisheries and Oceans and Parks Canada had been monitoring the beads immediately after the derailment and cleanup.
Jordan said Ontario Ministry of Natural Resources and Forestry fish sampling has not turned up any accumulations of the beads in Lake Superior fish, nor of damage to birds or bird habitat.
Jordan could not say exactly what the pellets intended use is, though a SooToday commenter has suggested they are nurdles, small pellets used to manufacture plastic goods.
Previous SooToday coverage of this story:
What the heck are these plastic beads in the lake? (3 photos)
(PHOTO: Jeremy Frech displays the white plastic pellets he found along the Lake Superior shoreline over the weekend. Supplied)