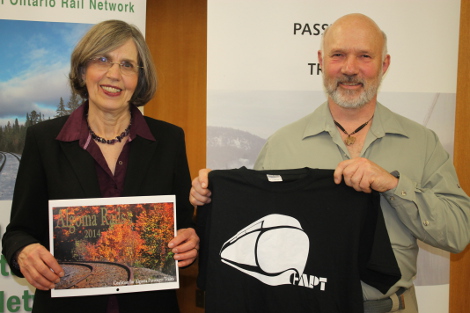 The Coalition for Algoma Passenger Trains (CAPT) held a town hall meeting Wednesday evening in Sault Ste. Marie for people affected by CN Rail's January decision to discontinue passenger rail service between the Sault and Hearst.
CAPT Board member Linda Savory Gordon and CAPT Co-Chair Al Errington (pictured with CAPT merchandise Wednesday) were among those who organized the meeting, which filled the Civic Centre's Russ Ramsay Room to capacity.
CN Rail announced January 24 that, because of a cut of $2.2 million in annual federal government funding it received to operate the Sault to Hearst run, it would be ending passenger rail service from the Sault to Hearst as of March 31.
Since then, CN has announced it is extending passenger rail service on the route until April 29.
Wednesday's town hall meeting included an overview of the CN Rail/Sault to Hearst situation (and the challenges Canadian rail service has faced in general over the years) from Transport Action Canada's Harry Gow.
Gow encouraged the audience: "Be organized, stay organized and make lots of noise."
There was also a presentation of a film trailer for an upcoming documentary about the ACR and its artistic/historical link to the Group of Seven from well-known wildlife adventurer Joanie McGuffin and local artist/art historian Michael Burtch, as well as messages of support from the Canadian Federation of Students and famous Canadian painter Robert Bateman.
However, the evening's highlight was the open discussion from the people who attended.
Many people passionately shared what the Sault to Hearst passenger rail route has meant to them throughout their lives and the lives of their families throughout the decades.
Owners of hunting and fishing lodges, most of which are accessible only by rail and who rely on the Sault to Hearst passenger rail line for their livelihood, cottage owners wondering how they will access their cottages (some of which have been owned by their families for generations) and tourists who enjoy the Sault to Hearst route, all shared their stories.
One tourism business owner told of how thousands of people over the years have travelled from the U.S. and as far away as South Africa to experience ice climbing along the Sault to Hearst region.
Passenger rail enthusiasts from Michigan were in attendance and also voiced their support for the route's continued operation.
The open discussion was also intended to be a brainstorming session of what can be done to save the line.
CAPT Co-Chair Al Errington, who is a Sault native, Batchawana Bay resident and owner/operator of Errington's Wilderness Island (a wilderness vacation spot located 206 miles north of Sault Ste. Marie), told SooToday.com: "The best thing to do is to write to (Sault Ste. Marie MP) Bryan Hayes and Minister of Transport Lisa Raitt and say this federal government decision (to cut annual funding to CN Rail for the Sault to Hearst passenger rail service) is not acceptable because of the economic and social importance of this train, because there are so many people affected by this."
Errington encouraged people to keep in touch with CAPT through its website and sign up for the group's email list, noting there will be more town halls and meetings, the need for volunteers to help with the cause (and, possibly financial support to help pay for lobbying trips to Ottawa) as time goes by.
An online petition can be accessed through the CAPT website and Errington said that information will be passed on to the federal government.
A representative from the Bryan Hayes local constituency office attended Wednesday's town hall meeting.
Errington said he was shocked to hear that Hayes too was surprised by the federal government's sudden announcement regarding the cut in funding to CN Rail, but added the Conservative MP has been supportive of concerned stakeholders.
"Bryan has been gathering and passing on information to the Minister."
"We (the stakeholders) are hoping to have a dialogue with Transport Canada, once they start listening to us," Errington said.
Errington said a working committee of various stakeholders is keeping CN Rail informed of its concerns and activities, and told us he clearly blames the federal government, and not CN Rail, for the current predicament.
The CAPT Co-Chair said there would be firings at CN Rail if the company itself was to spend $2 million annually to make up for the shortfall in funding from the federal government, stating the company's shareholders are strictly interested in the bottom line.
If a one-year extension of funding can be won from the federal government, what can be done to permanently save the Sault to Hearst passenger rail route?
Errington said the service should be enhanced with more advertising for the ACR (it was noted the services offered by the much larger VIA Rail are not promoted well), a better train schedule, and possibly better train cars to increase ridership.
Errington said upper management at CN Rail, which is primarily a freight carrier, is remote and unconcerned with passenger rail service, and needs to be made aware of its importance.
"The provincial government needs to get involved as well…they have an obligation to be there and they haven't been," Errington added.
Errington said: "We need the federal government, the provincial government and CN at the table with all the socio-economic stakeholders and then we can start talking about options…there are options and they have to be explored."
Errington emphasized CAPT's view that the federal government needs to respond first, however.
"This has not been a responsible decision at all."
"After four decades of funding the line, they've never done an analysis of what good those funds have done."
A working committee of various stakeholders, led by Sault Ste. Marie Chief Administrative Officer (CAO) Joe Fratesi, has been formed to lobby the federal government to extend its funding for the Sault to Hearst line for one year while the committee looks for ways to extend the service on a long-term basis.
Errington is a member of that committee.
Another CAPT town hall meeting was scheduled for this morning in Wawa at the Michipicoten Memorial Community Centre, and a third in Hearst at 8 p.m. in the Companion Hotel.