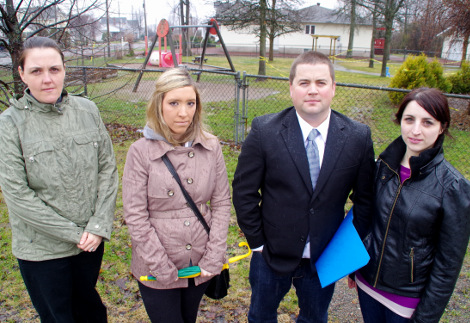 Parents whose children go to city-run daycare facilities are asking council to find a way to keep them open as multiple staff reports were released Friday recommended closure for the sites in the face of provincial funding cuts.
"Really, I hope they make an informed decision - that they understand the repercussions, the implications, what it means to the community and to our youth," said Rachel MacDonald, whose two-and-a-half-year-old daughter Kate goes to the city's Maycourt Children's Centre. "Ultimately, it's an investment in education and our young children."
Staff are recommending the city get out of the daycare business and that both municipally-run daycare sites - Maycourt and Jessie Irving - be shut down at the end of this year.
The 100 spaces those sites provide, both subsidized and not, would be dispersed to other operators for 2015.
Financial concerns are behind the recommended closures as the city grapples with provincial cuts to district daycare funding that has translated into a 27.5-percent reduction in grants for the city facilities.
According to staff reports, the city, which already subsidizes local daycare overall to the tune of nearly $1.3 million, is expected to pay $578,000 next year to cover the cost of operating its own daycares, plus almost $70,000 a year for the next five years in capital costs.
Rachel Punch, a mother of two who has a two-year-old at the Maycourt centre and a second daughter on the waiting list, said she would like to see council look for a way to save the centres, which she says offer a level of care not easily found elsewhere in the community.
"I think it's worth it, as a parent. We invest in things like hockey arenas and swimming pools and I think this is just another thing that is important in the community," Punch said. "As a young person who was born and raised here I don't want to leave the city and I think this is one thing that makes it a good place to live for young families."
Jenilee Neveau, whose two-and-a-half-year-old son Hunter goes there too, said she is troubled by the prospect of having to find another facility that meets the same standards as Maycourt.
Neveau said she worries a move would be stressful for Hunter, who has adapted to the routine at the Salisbury Avenue facility.
"I think it would be very difficult because he is so used to all his classmates," she said. "He's used to the one-on-one with his providers."
Hunter was receiving help with his speech prior to daycare and Neveau said staff at Maycourt made it an easy transition.
"He has definitely increased his social abilities - his speech and language," said Neveau.
Leslie Burtch, who has one child at Jessie Irving and one who is now in the school system, wrote in a letter to SooToday.com about the outstanding service she believes would be lost if that facility shuts its doors.
"Each (child) is greeted with a smile, warm hug, good morning and a keen interest in their little lives," wrote Burtch. "Each sad morning, or scraped knee and hurt feeling is given the utmost love and attention that allows parents to leave their most important people with these educators."
The staff recommendations are on the agenda for Monday night's city council meeting, though councillors may opt to settle the issue at a later date.
Parents are expected to be present at the meeting.
Staff say while other licenced daycare operators expected to pick up the slack should the city close its centre may not provide the same level of care, those centres would meet provincial standards.
Also at stake are what the city describes as 32 "good paying" municipal jobs between the two city sites.
While a staff report suggests many of those people would be expected to find jobs at other operators, it notes they would likely face a reduction in wages.
Employees at the site make between $6-13 more an hour than staff at other providers, says the city.
Those workers would receive severance totalling roughly $400,000 should the operations be wound down and one staff report says that funding from the city would have to continue until those costs are paid.
According to staff, the financial crunch came after a change in the provincial child care funding formula that resulted in a nearly $1-million reduction in local funding.
The District of Sault Ste. Marie Social Services Administration Board changed its funding model to cope with the cuts, meaning a cut of 27.5 percent to the funding directed to the city-run facilities.
A staff report also notes that Abinogii Kinomaago Day Care recently announced its closure due to financial difficulties.
Punch said she worries closure is the only option on the table.
"The report doesn't seem to offer any other solution than closing it. It doesn't really look like they looked at other options," she said.
(PHOTO: Rachel Punch, Jenilee Neveau, Brian MacDonald and Rachel MacDonald stand outside Maycourt Children's Centre on Friday. The parents hope to convince city councillors not to close the city-run facility. SooToday.com/Michael Purvis)
*************************
Previous SooToday.com coverage of this issue:
Letter: Don't take away our daycare
City faces child care challenges