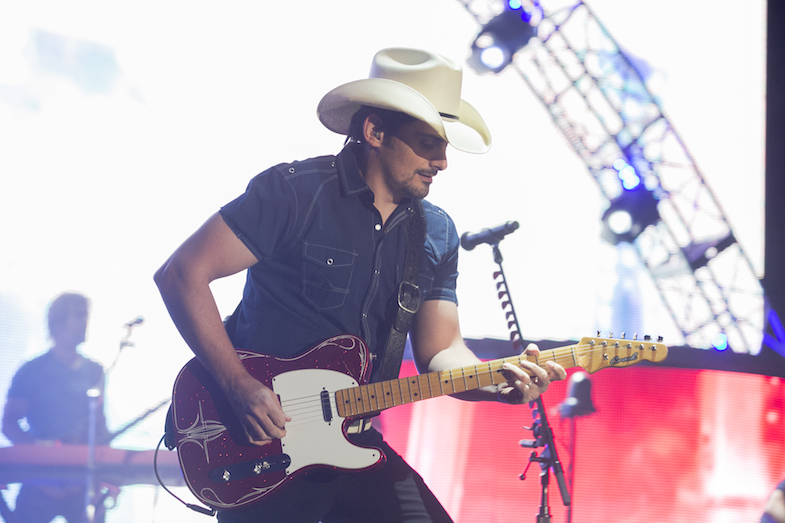 Although the Sault's rapid onset of winter weather held up opening performer Brett Kissel, the snow didn't stop headlining country superstar Brad Paisley from making it to the Essar Centre, and once he stepped on stage, things heated up quickly.
Opening the show with the house lights up, Paisley humbly accepted the warm welcome from the sold-out crowd.
Once the lights went down, the energy only continued to rise as Paisley performed the title track from his new album Moonshine in the Trunk, followed by his 2007 hit that reached number 1 on the Billboard Hot Country chart, Ticks.
"Summer is over," yelled Paisley as he made his way along the boardwalk section of the stage. "It's really freaking over up here."
Paisley didn't miss out on the opportunity to poke fun at Kissel's absence due to the weather noting the irony over the fact that the Canadian boy couldn't make it due to snow.
He also informed the crowd, "It's his loss, because you guys are the most beautiful audience we have looked at this year. Other than California."
His country music was rounded out nicely by his comedy which continued until Kissel finally arrived mid-show for a duet of Paisley's Mud on the Tires and an acoustic performance of his own song, 3-2-1.
With two general admission pits being up close and personal with Paisley throughout the show, a giant Brad Paisley mascot giving high-fives to screaming fans, and a tour through the floor section of the arena by Paisley himself, everyone was left with a smile on their face.
Eleven-year-old Britney Dowding of Sault Ste. Marie may have had the biggest smile however, as Paisley signed his acoustic guitar and handed it off to Dowding in the front row.
She wasn't the only one to walk away with a touch of Brad Paisley though, as some fans had their cowboy boots autographed while others temporarily lost their phones to Paisley as he fed his very clear addiction to selfies.
Although Kissel was late, and there was one minor guitar tuning glitch, Paisley lightened the mood by commenting, "Tonight's gonna go perfectly."
Ironically, a few songs later there was a lyrical fumble during She's Everything and Paisley outright laughed and said "I just forgot the words."
None of that seemed to affect the overall level of happiness coming from the cowboy-hat-and-tight-blue-jean-clad audience though.
At the end of the show, Paisley accepted the rowdy applause and returned to the stage for an encore as he performed his 2005 hit Alcohol and again Brett Kissel joined him on the main stage for a farewell to the Sault audience.