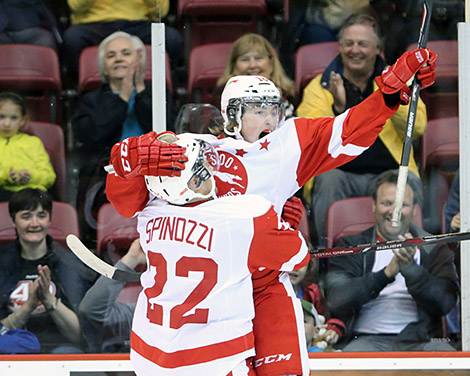 NEWS RELEASE
SAULT STE. MARIE DOWNTOWN ASSOCIATION
*************************
Hound Power "Downtowner" Contest launched for second straight year
With the 2014 OHL Playoffs on the horizon, the Soo Greyhounds Hockey Club is pleased to once again team up with the Sault Ste. Marie Downtown Association to launch the "Hound Power Downtowner" contest.
Through the contest, downtown businesses and offices are encouraged to show their Greyhound pride for a chance to win prizes from the OHL club.
The contest, which opened on Saturday, March 8, is open to all businesses and offices that are part of the BIA (Business Improvement Area) located in the downtown core.
Locations are encouraged to decorate their office/business windows with all things Hounds and get creative (think red, white, hockey jerseys, balloons, logos etc).
Members of the Downtown Association and the Soo Greyhounds will take pictures of all participating businesses/offices until the contest closes on Wednesday, March 19, at 5 p.m.
Five businesses will be announced as the Top 5 later that evening.
Those business/office window designs will be posted to the Hounds website for fan/resident voting.
Voting will close at 9 p.m. on Thursday, March 20 and the winners will be announced jointly between the Hounds and Downtown Association.
The top three finalists will be awarded prizes courtesy of the Hounds.
The Soo Greyhounds Hockey Club, and the Downtown Association invite you to be a part of the 2014 Playoffs and look forward to everyone's participation in the "Hound Power Downtowner" contest.
*************************