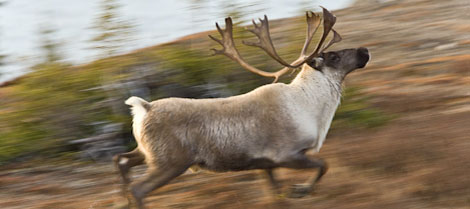 Thanks to the generous support of Joes Sports and Quattra, local celebrity environmentalist and Sault Ste. Marie Walk of Fame inductee Gary McGuffin is checking in from spots along the way on the latest expedition with the Wilderness River Expedition Art Foundation.
This year's expedition will paddle and explore the Noatak River in Alaska.
SooToday.com visitors are invited to share questions for McGuffin in the comment section below.
Here is the latest on the spot update from McGuffin.
*************************
It's noon on August 13.
We've just stopped on a gravel bar for lunch after paddling for about three hours.
The river has taken on a little different aspect now.
It's wider and faster and the gravel bars are a lot larger.
We're now paddling over top of arctic char that we can see swimming in the crystal-clear waters.
I'm looking out westwards towards the edge of Gates of the Arctic National Park.
We'll probably make the edge of the park later on this afternoon and then we'll be entering the Noatak National Preserve on the Noatak River.
We're looking out over a huge pass and probably, looking down on us, are lots of caribou, lots of musk oxen and we're seeing lots and lots of dall sheep on the high ridges.
They stand out because they're white colour while the caribou are much more brown coloured and blend in with the tundra.
Everyone is in really good shape, with no sore muscles.
What we're trying to do now is to judge the winds so we're getting up early, around 6 a.m. and getting most of our paddling in early in the morning and then later in the afternoon.
The wind seems to be coming up around 4 p.m. but by then we're secure in our three tents.
Our kitchen tent is proving to be very valuable as a place to socialize and to get in out of the weather.
We've had just amazing weather.
We haven't had rain, yet - touch wood - and it's been dry.
The river level has been dropping considerably because there hasn't been much rain and now it's sort of like we're paddling a river within a river.
It's just stupendous paddling.
I can't describe what a paradise it is to paddle in and to look out on these massive landscapes - it's just unbelievable.
Paddling this little blue, clear thread of water is just blowing us all away.
None of us have ever seen anything like this wilderness corridor.
A few hours later
Just a quick additional update.
We saw a couple of wolf pups who followed along the shore with us for a while but a little too far to get photographs.
Just ahead we saw and photographed our first caribou.
We're just on the edge of Gates of the Arctic National Park and Noatak National Preserve.
Tomorrow we'll be heading into a little bit faster water and we'll catch up with you when we can.
To follow expedition progress on the spot by map, please click here
*************************
Earlier SooToday.com coverage of this story
Proudly sponsored by: