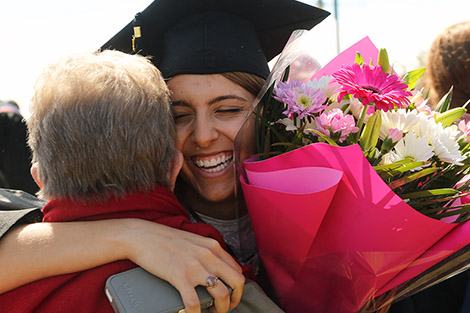 Approximately 1400 people, including an expected 206 graduating students, were on hand Saturday for Algoma University's 2014 convocation ceremony held at Roberta Bondar Park.

The university confered an honorary doctorate degree on Lester Pyette, a former Sault Ste. Marie resident who started his journalism career at the Sault Daily Star and went on to become publisher and CEO of the National Post, as well as executive editor of the Toronto Sun newspaper.

Local businessperson Donna Hilsinger was recognized as an honorary member of Algoma University during the ceremony, which is presented to those in the community who contribute service to the university.
This is the largest graduating class ever for the university, which was established in 1965 and became in independant degree-granting institution in 2008.
(PHOTO: An Algoma University graduate makes an embrace immediately after convocation ceremonies June 14, 2014 at Roberta Bondar Park. SooToday.com/Kenneth Armstrong)