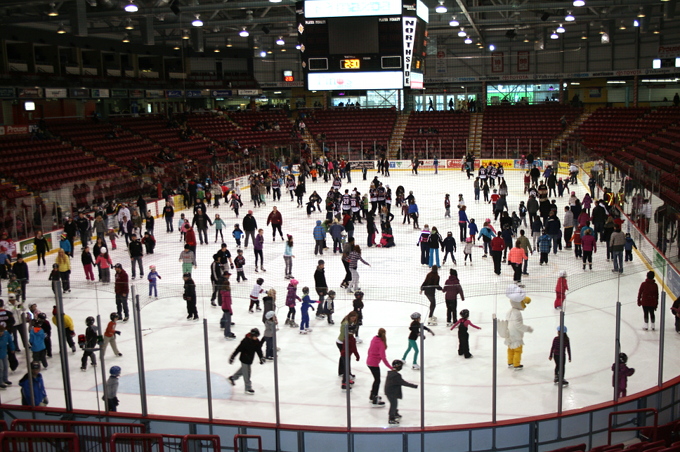 NEWS RELEASE
SAULT STE. MARIE AND DISTRICT
BRANCH OF THE CANADIAN DIABETES ASSOCIATION
*************************
SAULT STE. MARIE, ON - February 18, 2014 – The Canadian Diabetes Association, in partnership with Wacky Wings Eatery and Beverage Company, would like to thank the community for their terrific support of our Family Day Skate-a-thon for Diabetes that was held at the Essar Centre.
The free event was attended by over 1000 people and gave families the opportunity to skate, take in a yoga class, learn about stretching and warm up activities with the Sault College Students, and skate with the Soo Thunderbirds.
Face painting, games and fun crafts for children of all ages were enjoyed.
Free popcorn, fresh fruit, and veggies were given to participants to encourage healthy food choices.
Wally the Chicken, Sparky the Sault Ste. Marie Firefighter's mascot and Boomer, the friendly Soo Thunderbirds crowd pleaser were on hand to get folks moving.
The Skate-a-thon Challenge raised close to $1000 for programs and services of the local branch of Canadian Diabetes Association.
The top fundraiser was Giacomo Stephen of St. Mary's French Immersion School. Students who raised funds will split the total amount with their respective school and the Canadian Diabetes Association.
Many thanks to all of our terrific sponsors of this event.
For more information, please contact the Canadian Diabetes Association at 705-759-1233.
About the Canadian Diabetes Association
The Canadian Diabetes Association is a registered charitable organization, leading the fight against diabetes by helping people with diabetes live healthy lives while we work to find a cure.
Our professional staff and more than 20,000 volunteers provide education and services to help people in their daily fight against the disease, advocate on behalf of people with diabetes for the opportunity to achieve their highest quality of life, and invest in groundbreaking research.
Please visit diabetes.ca, join us on facebook.com/CanadianDiabetesAssociation follow us on Twitter @DiabetesAssoc, or call 1-800-BANTING (226-8464).
*************************