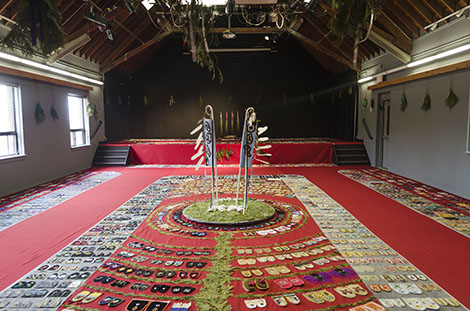 Walking in through the doors of the Shingwauk auditorium at Algoma University is generally not an experience that imprints itself.
Walking through those doors and being embraced by over a thousand pairs of unfinished moccasins, with each pair representing murdered or missing indigenous women is humbling at best.
Walking With Our Sisters opened its doors to the public Monday and runs until May 18.
Initially created by Métis artist Christi Belcourt, the travelling exhibit and memorial has begun to evolve into a national community project.
With a set schedule to travel all across the United States and Canada until 2019, the project is adopted and cared for by each community that hosts it.
"Whether we consciously think about it or not, it does affect us," says Dallas Abitong, one of the keepers for the Sault Ste. Marie memorial.
"Whether we read about it in the newspaper about somebody gone missing, or we see it on Facebook, or we hear it in the news, it does affect us in some way. I would like people to find their own healing within this."
This is also the first time that the memorial has been held at a former residential school.
While the residential school closed in 1970, the students who once went there can still feel the impact it has had on the community.
A special call for child size vamps (beaded fabric that covers the instep) was made for this exhibit, to represent the children that never left.
Local elders work in tandem with the keepers to ensure that the set up and execution of the event is done with deepest respect and adherence to traditional ways.
"I'm so proud to be a part of this," says Shirley Horn, one of the Elders assisting with the memorial, and residential school survivor.
"We're dealing with a spiritual nature here. So we have to be very respectful and follow our traditional way of honouring, which is very simple in our culture, but very important."
The memorial itself is a three-week ceremony and people interested in attending are invited to come with an open heart and an open mind.
"Aangwaamzin: stay determined, be careful," says Abitong.
"As a community, if we all stick together, take care of one another, then we will be OK. As long as we are there to help each other we are OK."
The opening of the exhibit in Sault Ste. Marie is uniquely positioned after the RCMP have confirmed reports of 1,186 missing and murdered indigenous women across Canada.
The reports confirmed by the RCMP say that there are 1017 murdered indigenous women between the years of 1980 and 2012.
169 indigenous women have been reported missing since 1952.
Violence against indigenous women is disproportionate, representing the 16% of all murdered females between 1980 and 2012, while the actual population of indigenous women is only 4% of the entire Canadian population.
Indigenous women account for 12% of all missing females on record.
For more information about walking with our sisters check out their website, or Facebook
Check out Sootoday's previous coverage for this story here
(Photo by Brad Jones - SooToday.com - shows Walking with Our Sisters Exhibit at Algoma University in the Shingwauk auditorium from May 5 to 18)