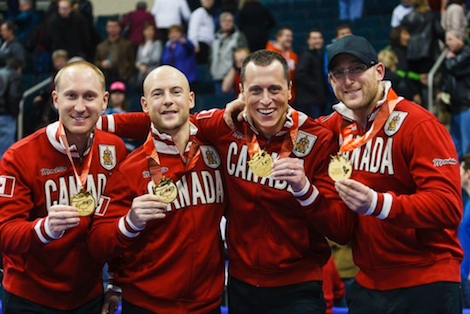 NEWS RELEASE
BRYAN HAYES, SAULT MP
*************************
OTTAWA – Today in the House of Commons, Bryan Hayes, the Member of Parliament for Sault Ste. Marie, delivered the following statement:
"Mr. Speaker, I would like to extend my congratulations to Team Jacobs from Sault Ste. Marie on winning the Olympic gold medal in men`s curling.

This victory comes less than a year after winning the Brier, followed by silver at the Worlds.
Consisting of skip Brad Jacobs, third Ryan Fry, second E.J. Harnden & lead Ryan Harnden along with alternate Caleb Flaxey and Coach Tom Coulterman, this team played with true Canadian spirit.

As Team Jacobs took their place front-and-centre on the Olympic podium, Saultites and Canadians across the country were filled with pride and admiration at their incredible talent, drive and strength.

This is the first gold medal for Team Jacobs and for Sault Ste. Marie and it is the first time in history that both the Canadian men`s and women's curling teams - team Jennifer Jones of Winnipeg in this case - have won gold in the same Olympics.

Congratulations to the entire team and coaching staff for once again putting Sault Ste. Marie on top of the international sporting stage!"
*************************