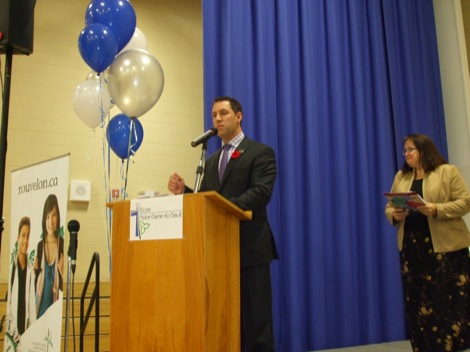 Sault Ste. Marie MPP David Orazietti has decided not to run for the leadership of the Ontario Liberal Party.

Orazietti made the announcement Friday afternoon after the official opening ceremonies at the Sault's new French-language Catholic school, Ecole Notre-Dame-du-Sault, on North Street.

Orazietti said he decided not to run in the Liberal Party leadership race, the winner of which will succeed Dalton McGuinty as the new Premier of Ontario, because of family considerations.

"It would mean an even greater time commitment away from my family and that's not something I'm prepared to commit to at this point," Orazietti stated.

"I am humbled by the support that I've received [regarding a run for the leadership], and I want to thank all those individuals who have expressed their tremendous support and encouragement, but I simply cannot undertake this at this time, given my family responsibilities and commitments."

Orazietti said he will be meeting with Liberal Riding Association officials across the North to ensure a candidate steps forward to work hard for the interests of Northern Ontario.

"It will certainly be my priority to ensure that the next Liberal leader of Ontario is one that is incredibly focused and committed to the priorities of Northern residents," Orazietti said.

Orazietti's comments come after SooToday.com first received confirmation from the Sault MPP October 19 that he was considering a run for the leadership of the Liberal Party of Ontario, after Premier Dalton McGuinty's announcement he would be stepping down as Liberal leader and Premier.

Orazietti noted that at this point no one has officially come forward to announce a leadership bid, but added: "There are a number of other individuals who I know are contemplating (running for the leadership), and I believe in the very near future we will see some announcements around individuals who are going to put their names forward for the leadership."

The Sault MPP said: "I will likely endorse someone, I'm not going to make that commitment at this point, I want to see who comes forward and see what their plans and policies are. Hopefully I will be able to endorse someone. I want to ensure though that they have their priorities straight when it comes to the interests of Northern Ontario."

Orazietti then shifted his comments toward Friday's official opening ceremonies of Ecole Notre-Dame-du-Sault.

"I think we have made tremendous progress in Sault Ste. Marie over the last nine years. We are here today at a new location recognizing another investment of millions of dollars by the province to support learning environments in Sault Ste. Marie," he stated. "It has been decades since a provincial government has made these types of commitments for education in Sault Ste. Marie."

Total construction cost for the new school is $12.5 million.

The province contributed over $11.2 million to the project, and the Conseil scolaire catholique du Nouvel-Ontario financed the remainder of the cost.

The school, at 600 North Street, is the result of a merger of three Sault Ste. Marie French-language Catholic schools (Ecole Notre-Dame-des-Ecoles, Ecole Cardinal-Leger and Ecole secondaire Notre-Dame-des-Grands-Lacs) next to a ravine and wooded area on school property.

The new school is a complete renovation of the old Ecole Notre-Dame-des-Ecoles, attached to a new wing.

The school will serve over 300 students, from Junior Kindergarten to Grade 12.

The facility's daycare has space available for 30 preschoolers and is managed by Child Care Algoma.

Conseil scolaire catholique du Nouvel-Ontario officials present at the ribbon-cutting ceremony in the school's gymnasium included Conseil President Marcel Montpellier, Director of Education Lyse-Anne Papineau (who both traveled from Sudbury for Friday's celebration) and school principal Gisele Lamy.

They were joined by Orazietti, Sault MP Bryan Hayes and City Councillor Lou Turco.

The gymnasium, filled with students, staff and parents, were entertained by clearly excited school children that gave singing and dancing performances on the gym's stage to celebrate the school's official opening.
Earlier SooToday.com coverage of this story
David Orazietti considers running for Provincial Liberal Leadership