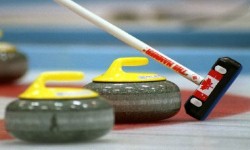 Day two of the 2014 Ontario Scotties didn't get off to the start organizers wanted, but one draw did get in on Tuesday.
Tuesday was supposed to be the first day of afternoon draws in the tournament but a problem with the compressor at the curling rink forced organizers to cancel draw two, which was originally scheduled for 1 p.m.
All 10 teams were back in action on Tuesday night as the compressor problem was corrected. To be safe, Tuesday's evening draw was pushed back to 7:30 p.m.
The local entry in the tournament, Dawna Premo and her team from Soo Curlers, struggled out of the gate on Tuesday night, falling behind 4-0 after one end in a 9-3 loss to Tracy Horgan's rink from the Idylwylde Golf and Country Club. Horgan added a pair in the fourth end while also picking up steals of one in the second and fifth ends.
The loss drops the Premo rink to 0-2.
In other Ontario Scotties action on Tuesday night Allison Flaxey beat Hollie Nichol 8-6 in extra ends. Julie Hastings beat Sherry Middaugh 7-6, also in extra ends. Ashley Kallos beat Cathy Auld 9-4 while Julie Reddick beat Kendra Lilly 6-2.
Draw two, which was cancelled on Tuesday morning will be rescheduled for later in the week.
Draw four is set for 1 p.m. Wednesday afternoon. Dawna Premo will look to avoid falling to 0-3 as she faces Julie Reddick.
Standings
Team Flaxey: 2-0
Team Hastings: 2-0
Team Reddick: 2-0
Team Auld: 1-1
Team Horgan: 1-1
Team Kallos: 1-1
Team Middaugh: 1-1
Team Lilly: 0-2
Team Nicol: 0-2
Team Premo: 0-2