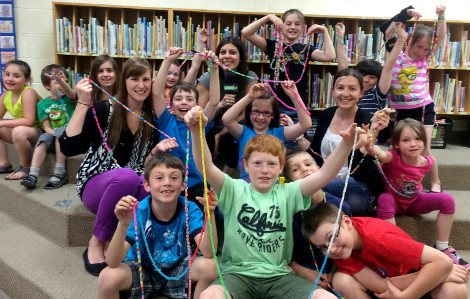 A group of local kids are on a mission to break a Guinness Book of World Records feat, and you can help.
The youngsters in Childcare Algoma's R.M. Moore Before and After School Program are trying to beat the world record for the longest rubber band chain.
Since the end of April, the kids have worked diligently every day on expanding their rubber band chain (made from rainbow loom bracelet elastics) in the hope that they can contend for setting a new world record.
"The record right now is 1.32 miles, which is about 6,969 feet, and they want to go for over 7,000 feet," said Candace Dowding, a Childcare Algoma worker and one of the organizers of the initiative.
The chain, as of Monday, measures more than 5,000 feet, leaving them just 1,893 feet shy of reaching their goal.
Each day, Candace measures out the rubber bands that have been tied together by the children and adds them to the chain they have been amassing.
"We had to resort to a hose wheel so we could roll it easier," said Dowding.
The kids complete a few hundred feet on average, per day, making their goal only a few weeks away.
They are aiming to finish the project before the school year wraps up at the end of June.
Dowding says the best part about the undertaking is that the kids came up with the idea themselves and the project is teaching them many important life lessons, such as seeing a project through, and how hard you have to work to achieve a goal you set for yourself.
"It's a big team project. At the beginning, a lot of them didn't know how to do it, so they taught [each other] how to do it, so everyone is involved now."
Although the group is well on their way to reaching their goal, they could use some support from the community to make sure they can pass the finish line.
The group is always in need of more rainbow loom elastics to continue their quest.
If you'd like to donate a bag or two to help them continue their run for the world record, call the R.M. Moore site at 705-945-8898 ext. 310, or drop by the Childcare Algoma head office at 148 Dacey Road.
To see the kids in action as they create the rubber band chain, check out our video story on Local2.ca here.