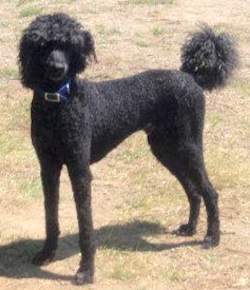 One year ago Saturday, Lori Bouchard's beloved dog, Buddy, was killed by a hit and run driver.

Buddy was on a short leash, walking in a crosswalk, on a green light when he was hit and seriously injured. He died from his injuries the following day.

Police said there was not enough information to lead them to the driver of the van that hit Buddy and, to date, he or she has not been identified or charged.

Bouchard sent us the following letter to update our loyal readers on the story of what's happened to her since then.
*************************
An update for caring readers on the devastating loss of my beloved Buddy.

It has been one year since my boy and best friend Buddy has passed after being hit while walking on his leash.

I still miss him terribly and think that I always will.

With the help of my daughter I was in touch with a breeder up north (Jane) from Back in Black standard poodles.

After talking with Jane and coming up with a price we ended our conversation with Jane telling me she would be in touch when the pups were born.

A couple of days after our conversation

Jane was in touch with me and said she read my story online and she wanted to give me this puppy! Yes, give this puppy.

I cried I was so touched that people like Jane still exist, but so sad that I had to lose my Buddy to find this out.

I was in awe as I read the comments on SooToday.com and Local 2 about readers getting together to buy me another puppy.

Imagine that, perfect strangers wanting to do this for me.

I learned there are still some wonderful and caring people in this world and especially in Sault Ste Marie.

I thank all of you for your kind words.

I never in my life felt so sad as when my Buddy passed away.

I needed to hear all those kind words.

Thank-you all so much.

I have made some good friends through all of this sadness.We do not have any laws to protect our domestic animals.

I will try to work on this.

I now have Jake a beautiful boy thanks to Jane at Back in Black standard poodles in New Liskeard .

Thank you all for the love and support that was given to me when I needed it the most and thank-you, Jane, for my beautiful Jake.
*************************
Disclaimer: The content supplied by readers as "Letters to the Editor" on SooToday.com does not in any way, shape or form, implied or otherwise, necessarily express or suggest endorsement or support of any of such content, statement, or opinions therein. SooToday.com does not necessarily adhere to or endorse content provided by outside non-staff sources.