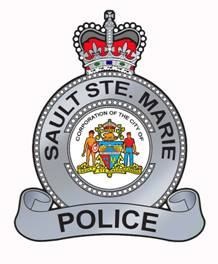 CITY POLICE
NEWS RELEASE
***************************
3 p.m. update: Downtown assault and stabbing
This morning, officers with the Patrol Services section of the Sault Ste. Marie Police Service arrested 24-year-old Curtis St. Pierre in relation to two incidents in the downtown area.
Shortly after midnight, officers responded to an altercation in the area of Wellington Street East and Bruce Street.
It is alleged that at this time the accused assaulted a male known to him by punching him while the victim was walking down the street.
While assaulting the victim, it is alleged that the accused threatened to kill him.
During that altercation the accused did receive a minor stab wound that he later received medical attention for.
A short time later, the accused went to the residence of the victim and forced his way into the front door using his shoulder.

While forcing the door in, it is alleged that the accused pushed a female that was inside the doorway of the residence.

Once inside, the accused assaulted a second victim by punching him several times.

This victim fell down a series of stairs during the assault.

This fall lead to a non-life threatening injury that required medical attention.
Just after that, the first victim (from the Wellington Street assault) entered the residence.

The accused assaulted this male a second time by punching him several times while inside the residence.

While the accused was inside the residence he caused damage by punching several holes in the walls and later threatened to burn the house down.

Officers with the Criminal Investigations Division are now following up with this investigation, however, at this point the accused has been charged with the following; three counts of assault, two counts of threatening, one count of break-and-enter and commit and indictable offence, one count of assault causing bodily harm, one count of mischief under $5,000, and one count of breach of probation.

Mr. St. Pierre is scheduled to appear in bail court today.
***************************
Original 7:30 a.m. release
A stabbing was reported at approximately 12:10 this morning.
One male was transported to hospital with non life-threatening injuries.
Officers are investigating an assault and stabbing that apparently occurred at Wellington and Bruce St. followed by another altercation in the Wilcox Street area where a residence was broken into and the occupants assaulted.
At this time 24 year old Curtis St. Pierre of 406 Sydenham Road has been arrested and charged with 3 counts of assault, one count of assault causing bodily harm, break and enter and mischief.
The investigation is currently ongoing.
***************************
If you have any information regarding these crimes, or any other crime, call Crime Stoppers at 705-942-7867 or 1-800-222-8477 (TIPS), submit an e-tip from the Crime Stoppers' website at
www.saultcrimestoppers.com
or text keyword SSM with your tip to 274637. Text STOP to 274637 to cancel. Text HELP to 274637 for help.

Msg & Data Rates May Apply. Terms and Conditions, Privacy Policy, Terms of Use.

***************************
To read more city police news, please click here
Editor's note: Comments on the above article have been disabled due to persistent inappropriate postings.