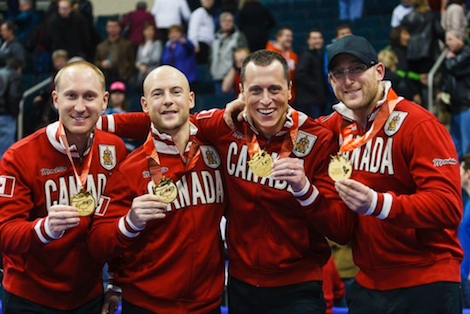 2:30 a.m. update:
Team Jacobs wins the first draw against Team Germany 11 to 8 at the Ice Cube Curling Center.in Sochi.
To watch a full webcast replay click here.
Viewers can next watch Team Jacobs face Sven Michel of Switzerland at 10 a.m. EST on TSN.
***************************
Earlier story:
Tonight's the night!

Or, for the Sault athletes that make up Team Jacobs, tomorrow is the day!

The Jacobs rink is set for its first draw against Germany at the 2014 Winter Olympics Games in Sochi, Russia as Brad Jacobs, Ryan Fry, E.J. Harnden and Ryan Harnden are scheduled to curl tonight at midnight EST.

"We're going to be bringing everything we've got to every single game and the emotion that pours out of us sometimes, we can't control it. You can see that on the ice when a big shot is made and we all explode together," said Jacobs in an interview with the Canadian Press earlier today.

"The Norwegians are famous for their pants and bring a lot of colour to the game. Our team is known for the tight shirts and tight uniforms more than the colourful pants."

Family, friends, and fans are encouraged to tune into CBC at midnight to catch Team Jacobs' first draw as 2014 Mens Olympic Curling gets under way.
CBC.ca is providing live streaming, click here to view.

Following this first draw, viewers can watch Team Jacobs face Sven Michel of Switzerland at 10 a.m. EST on TSN.

In the mean time, please enjoy this recent interview with Jim Cronin and skip Brad Jacobs here.