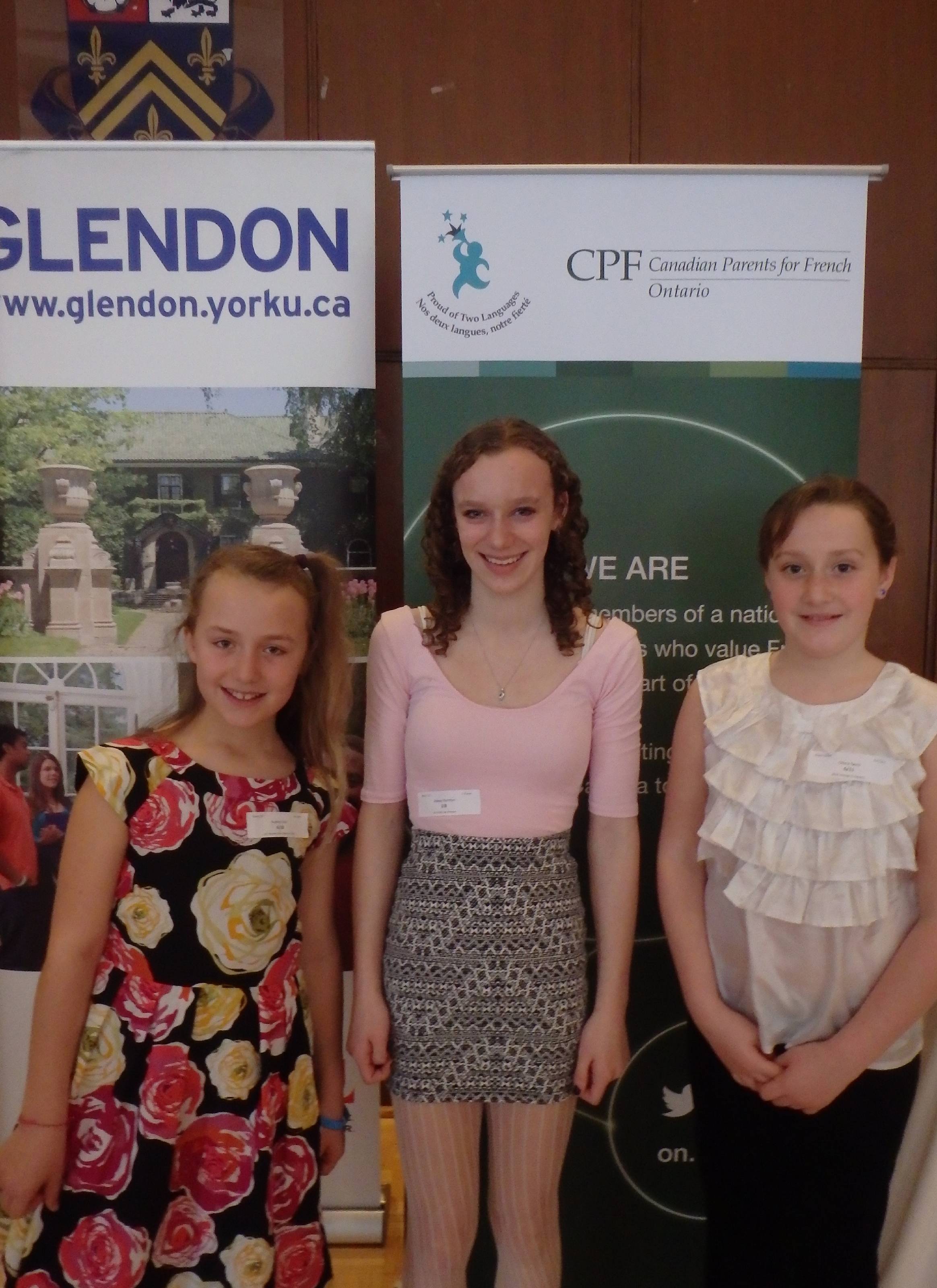 NEWS RELEASE
ALGOMA DISTRICT SCHOOL BOARD
************************
Algoma students showcase their language skills at Toronto Event
Three Saultites represent ADSB at the Canadian Parents for French public speaking contest
On Saturday May 10, 2014 three Algoma District School Board (ADSB) students showcased their French oral presentation skills at the York University's Glendon Campus.
Olivia Nero, Abbey Pierman, and Audrey Vair were among 289 students from 24 public and separate school boards and seven private schools from across Ontario.
The Canadian Parents for French website estimates that at the classroom level, over 20,000 students across Ontario took part in French Second-Language public speaking preliminaries in order to qualify for the Provincial event.
To earn their spot, locally, ADSB students had to elect to compete in their classrooms and then had to also win at the school level for their grade category (4-6, 7-8).
Olivia Nero represented Greenwood Public School and Audrey Vair represented Rosedale Public School in the Grade 4-6 category.
Abbey Pierman, also of Rosedale, competed in the Grade 7-8 category.
The "Concours et Festival d'art oratoire" according to their website "is an annual French public-speaking event for students from grades 4 through 12 studying French as a Second Language in Ontario schools. It is organized by the Ontario Modern Language Teachers' Association and Canadian Parents for French (Ontario)."
In the morning, the Algoma students participated in the grades four through eight non-competitive festival event.
Topics of the three to four minute oral presentations varied and included educational, persuasive, and inspirational topics.
Following their oral presentations, participants were also asked questions by the judges to further showcase their French language skills.
The Algoma District School Board provided some funding to send the three participants to Toronto.
Participants also received a t-shirt, a medal, and a pair of sunglasses.
They were lauded by the organizers and judges for getting to this level of competition.
"I felt really lucky to be here and practise my French and meet so many people," said Audrey Vair. "It was a great experience and I hope I get to go again to represent my school and district. Maybe I can even win a scholarship."
In the afternoon category, Secondary students in grades 9 through 12 had the opportunity to compete for cash prizes and a chance to move on to the National CPF level.
"The first-place winners of the grade 11-12 level win either a $1,000 entrance scholarship to York University or $2,000 to La Cité collégiale," said their website. "The four finalists go on to represent Ontario at the CPF National Concours d'art oratoire." The stakes are raised at the National competition where students can win full or partial scholarships to the University of Ottawa, the University of Moncton, and La Cité Collégiale.
"Improving our students' French speaking ability, including the confidence to spontaneously converse in French, is a focus of instruction in the ADSB French classrooms," said Tracy Reid, FSL Special Assignment Teacher, K-12, ADSB."This competition is a fantastic learning experience. We are very proud of their courage and their achievement."
According to Reid, 306 Immersion and 5 Core French elementary students prepared for the Board Level competition.
"Next year, we look forward to even more students participating as they continue their journey as life-long language learners."
The Concours et Festival d'art oratoire (Canada's French Public Speaking Contest) celebrated their 30th annual event this year, with cupcakes and special guests at the opening ceremonies, such as Lucie Laroche, Olympian.
*************************