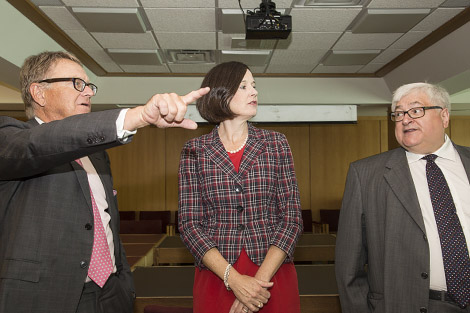 OLG's board of directors assembled at the Civic Centre for a meeting with Sault Ste. Marie Mayor Debbie Amaroso and city CAO Joe Fratesi this afternoon.
Fratesi said on Tuesday that he and the mayor will be making their case as to why the head office of OLG should remain in Sault Ste. Marie.
Mayor Amaroso invited OLG chair Philip Olsson for a meeting when he was appointed last July.
The meeting with city staff comes before the actual board of directors hold their monthly meeting here on Thursday.
(PHOTO: New OLG board chair Philip Olsson points out landmarks visible from the Russ Ramsay Room at the Sault Ste. Marie Civic Centre to fellow board members Lori O'Neil and Orlando Rosa June 25, 2014. SooToday.com/Kenneth Armstrong)