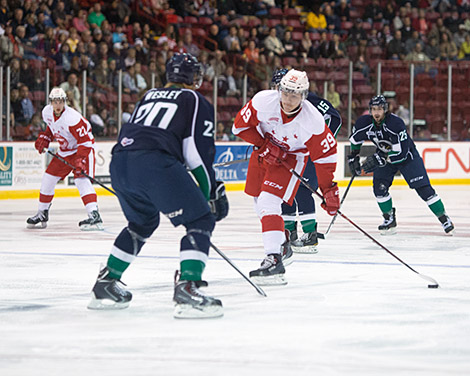 The Ontario Hockey League playoffs kick off on Thursday night when the Barrie Colts host the Sudbury Wolves in game one of their Eastern Conference quarter-final series.
Locally, the playoffs begin 24 hours later when the Soo Greyhounds host the Owen Sound Attack in a rematch of the first round of last year's playoffs, this time with game one being held at the Essar Centre.
The series has a much different feel with a lot of players who were a part of last year's six-game series having graduated to professional hockey.
Gone are the likes of Daniel Catenacci, Cody Ceci and Jordan Binnington of the Attack. Faces gone from the Greyhounds lineup include Nick Cousins, Brandon Alderson, Ryan Sproul and Colin Miller.
Change the fact the Greyhounds are the favourite in the series as well and this is a much different series.
The Greyhounds enter the series having posted a 44-17-2-5 record in the regular season. The West Division champions finished second in the OHL's Western Conference behind the Guelph Storm.
The Attack posted a 31-29-3-5 record, finishing fourth in the Midwest Division and seventh in the Western Conference.
Team Leaders
Sault Ste. Marie
Goals: Sergey Tolchinsky – 31
Assists: Sergey Tolchinsky – 60
Points: Sergey Tolchinsky – 91
Plus/Minus: Patrick Watling – +35
Penalty Minutes: Bryan Moore – 100
Owen Sound
Goals: Holden Cook – 28
Assists: Kurtis Gabriel – 35
Points: Holden Cook – 57
Plus/Minus: Kyle Hope – +16
Penalty Minutes: Kurtis Gabriel – 99
Series Schedule
Game 1: Mar. 21 in Sault Ste. Marie (7:07 p.m.)
Game 2: Mar. 22 in Sault Ste. Marie (7:07 p.m.)
Game 3: Mar. 24 in Owen Sound (7 p.m.)
Game 4: Mar. 26 in Owen Sound (7 p.m.)
Game 5: Mar. 28 in Sault Ste. Marie (7:07 p.m.)
Game 6: Mar. 30 in Owen Sound (2 p.m.)
Game 7: Apr. 1 in Sault Ste. Marie (7:07 p.m.)
****
OTHER SERIES
Eastern Conference
Oshawa Generals vs. Mississauga Steelheads
Game 1: Mar. 21 in Oshawa (7:35 p.m.)
Game 2: Mar. 23 in Oshawa (6:05 p.m.)
Game 3: Mar. 25 in Mississauga (7:30 p.m.)
Game 4: Mar. 27 in Mississauga (7:30 p.m.)
Game 5: Mar. 28 in Oshawa (7:35 p.m.)
Game 6: Mar. 30 in Mississauga (2 p.m.)
Game 7: Apr. 1 in Oshawa (7:05 p.m.)
North Bay Battalion vs. Niagara IceDogs
Game 1: Mar. 21 in North Bay (7:30 p.m.)
Game 2: Mar. 23 in North Bay (2 p.m.)
Game 3: Mar. 25 in St. Catharines (7 p.m.)
Game 4: Mar. 27 in St. Catharines (7 p.m.)
Game 5: Mar. 28 in North Bay (7:30 p.m.)
Game 6: Mar. 30 in St. Catharines (2 p.m.)
Game 7: Apr. 1 in North Bay (7 p.m.)
Kingston Frontenacs vs. Peterborough Petes
Game 1: Mar. 21 in Kingston (7 p.m.)
Game 2: Mar. 23 in Kingston (7 p.m.)
Game 3: Mar. 25 in Peterborough (7:05 p.m.)
Game 4: Mar. 27 in Peterborough (7:05 p.m.)
Game 5: Mar. 28 in Kingston (7 p.m.)
Game 6: Mar. 30 in Peterborough (7:05 p.m.)
Game 7: Apr. 1 in Kingston (7 p.m.)
Barrie Colts vs. Sudbury Wolves
Game 1: Mar. 20 in Barrie (7:30 p.m.)
Game 2: Mar. 22 in Barrie (7:30 p.m.)
Game 3: Mar. 25 in Sudbury (7 p.m.)
Game 4: Mar. 27 in Sudbury (7 p.m.)
Game 5: Mar. 28 in Barrie (7:30 p.m.)
Game 6: Mar. 30 in Sudbury (7 p.m.)
Game 7: Apr. 1 in Barrie (7:30 p.m.)
Western Conference
Guelph Storm vs. Plymouth Whalers
Game 1: Mar. 21 in Guelph (7:30 p.m.)
Game 2: Mar. 22 in Guelph (7 p.m.)
Game 3: Mar. 25 in Plymouth (7 p.m.)
Game 4: Mar. 26 in Plymouth (7 p.m.)
Game 5: Mar. 28 in Guelph (7:30 p.m.)
Game 6: Mar. 30 in Plymouth (4 p.m.)
Game 7: Apr. 1 Guelph vs. Plymouth (7 p.m.)
Erie Otters vs. Saginaw Spirit
Game 1: Mar. 21 in Erie (7 p.m.)
Game 2: Mar. 22 in Erie (7 p.m.)
Game 3: Mar. 24 in Saginaw (7:11 p.m.)
Game 4: Mar. 26 in Saginaw (711 p.m.)
Game 5: Mar. 27 in in Saginaw (7:11 p.m.)
Game 6: Mar. 30 in Erie (6 p.m.)
Game 7: Mar. 31 in Erie (7 p.m.)
London Knights vs. Windsor Spitfires
Game 1: Mar. 21 in London (7:30 p.m.)
Game 2: Mar. 22 in London (7 p.m.)
Game 3: Mar. 25 in Windsor (7:05 p.m.)
Game 4: Mar. 27 in Windsor (7:05 p.m.)
Game 5: Mar. 28 in London (7:30 p.m.)
Game 6: Mar. 31 in Windsor (7:05 p.m.)
Game 7: Apr. 1 in London (7 p.m.)
File photo by SooToday.com's Kenneth Armstrong
For a video playoff preview, click here