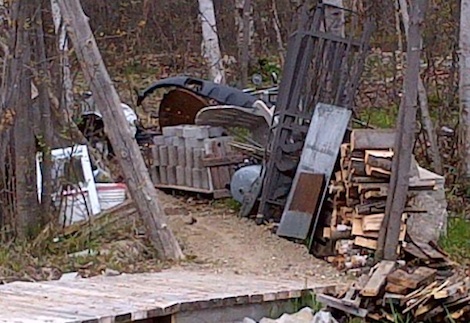 A set of
photographs
submitted from loyal SooToday.com reader Ruth Tonon and posted on our site Monday has stirred up a great deal of response from residents of Sunnyside Beach Road.
15 residents packed the Sault Ste. Marie Region Conservation Authority's office to attend the Conservation Authority's Board meeting Tuesday.
Tonon, who is officially a resident of Mississauga, Ontario, visits her Sunnyside Beach Road home throughout the year.
Her photographs show an area opposite her home cluttered with discarded building supplies such as concrete blocks, bricks, logs and other debris.
Tonon is also opposed to the long-standing practice of some Sunnyside Beach Road residents using bridges to cross over City-owned drainage ditches to leave compost on the opposite side of the road.
Graham Newman, one of several Sunnyside Beach Road residents who attended Tuesday's Board meeting to speak on the residents' behalf, told the Board: "I understand two or three families over stepped the mark (in leaving the discarded building material there)."
Newman said the people involved were contacted by other Sunnyside Beach Road residents, and have since cleared up the area.
Newman told SooToday.com: "Two of the 75 residents were abusing the area. We asked them to remove the clutter, and it was removed."
Newman and other residents at Tuesday's meeting did ask the Board, however, if the practice of composting in the area could continue.
While no clear decision was made, Board members Ken Lamming and Marchy Bruni voiced their support of that.
Bruni said residents of Sunnyside Beach Road do a good job of caring for the area, officially known as the Shore Ridge Conservation Area.
Conservation Authority General Manager Linda Whalen told SooToday.com: "Our office will be sending letters out to the residents of the Sunnyside Beach Road area to request cooperation and instill a need for respect and care for the provincially significant wetland in the Shore Ridge Conservation Area."
"We realize there have been some concerns raised in regards to some materials that have been deposited in the area."
"Most of this has been cleaned up, and we'll be following up to make sure.I sense that some of the residents will be following up on their own and working together to try and make sure the area is kept as clean as it possibly can be."
While not opposed to residents composting in the area, Whalen said: "there are some concerns over the possibility that invasive plants can be introduced through composting, and that there are concerns about chemicals that have been applied to lawns in the area."
"Our letter will remind residents of those concerns," Whalen told us.
Tonon, speaking to SooToday.com, said she first noticed the unsightly construction debris last fall.
As for composting, she described it as a "decades-long problem."
"Some residents on Sunnyside Beach Road have been using what is partially City property, partially Conservation Authority property, for composting."
"There's a culture of entitlement on that road (among the residents)," Tonon said.
She stated anyone crossing on to the adjacent wetlands for any reason, including composting, is trespassing on City and Conservation Authority property and harming the wetland.
"It's very simple," she said."It's the law."
"Wetlands are not for composting," Tonon added."Wetlands do their own composting, they are the lungs of the watershed. The last thing we want on the wetland is composted yard waste from residential lots where they are using pesticides. We should be grateful for the wetlands and not treat them as a place to hide stuff."
In other Conservation Authority news from Tuesday, the Conservation Authority Board, in a 4-1 recorded vote, chose to retain the services of lawyer John Paul Paciocco as legal counsel in dealing with the controversial Pointe Estates development project.
A group of concerned citizens, represented by lawyer Helen Scott, is challenging the CA Board's December 2012 approval of the project, which they say will endanger wetlands in the Pointe Estates area.
The legal challenge will be heard in court in October.