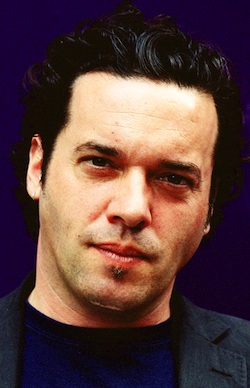 NEWS RELEASE
ALGOMA UNIVERSITY
*************************
Algoma U's honorary degree recipient is Giller Prize-winning author Joseph Boyden to be recognized at June convocation

SAULT STE. MARIE, ON (May 14, 2013) - Algoma University is pleased to announce that Giller Prize-winning author Joseph Boyden will be this year's honorary degree recipient at 2013 convocation ceremonies, to be held on Saturday, June 8, 2013.

"Boyden [shown] is not merely a terrific novelist," begins University president Dr. Richard Myers. "It's significant for us that his work provides a rich and vivid account of historical and contemporary First Nations experiences in Northern Ontario, including the influence of the residential schools. For these reasons, he's an excellent choice for the honorary doctorate at this year's convocation, and we're thrilled that he's coming."

Boyden is a highly decorated author from North York, Ontario.
Being of Irish, Scottish, and Anishinaabe heritage, Boyden's novels highlight First Nations heritage and culture, but also his love for Northern Ontario, including Moosonee, Moose Factory, and James Bay.
He studied at Brebeuf College School, and pursued creative writing at York University and the University of New Orleans.
Boyden is best known for his two novels of historical fiction which detail the Bird family - Three Day Road (2005) and Through Black Spruce (2008).
The first follows two Cree soldiers serving in World War I as snipers, while the latter is the sequel, and shadows the story of a Moosonee Cree women searching for her sister in urban centres like Toronto and Montreal.
The Orenda, the last installment of the Bird family trilogy, will be released in September of 2013.
Three Day Road was shortlisted for the 2005 Governor General's Award for Fiction, and won the McNally Robinson Aboriginal Book of the Year Award, the Rogers Writers' Trust Fiction Prize in 2005, and the Amazon/Books in Canada First Novel Award in 2006.
His second novel, Through Black Spruce, won the prestigious Scotiabank Giller Prize in 2008, one of the top literary awards in Canada.

"I'm deeply honoured to be Algoma University's honorary degree recipient for 2013," said Boyden. "Just as I try to build bridges between cultures with my novels, Algoma University actively creates strong bonds with Ontario's First Nations. I'm thrilled to become a part of that community."

Previous honorary degree recipients include Guy Traficante, principal of the Algoma Conservatory, James Bartleman, former Ontario lieutenant-governor, hockey coach Ted Nolan, and Frederick Griffith, long-time chief executive officer and president of the Group Health Centre.
About Algoma University
Algoma University offers a wide variety of liberal arts and sciences degree options including programs in psychology, computer science, business administration, fine arts, community economic & social development, and biology in Sault Ste. Marie, Brampton, Timmins and St. Thomas.
As a partner with Shingwauk Kinoomaage Gamig, Algoma U is committed to respecting Anishinaabe knowledge and culture.
Algoma University has launched its Essential Elements Campaign to expand its campus and offer more scholarships and awards to students.
To learn more, visit here.
*************************