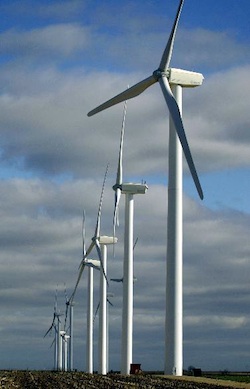 NOTICE OF ENVIRONMENTAL
REVIEW PRELIMINARY
HEARING AND HEARING
REGARDING BOW LAKE
RENEWABLE ENERGY
APPROVAL APPEAL
*************************
Preliminary Hearing:
Date: January 28, 2014
Time: 10 a.m.
Place: City Centre Travelodge, Northern Lights Ballroom, 332 Bay Street, Sault Ste. Marie, Ontario
Purpose of the preliminary hearing:
To rule on requests from groups and individuals for Party, Participant or Presenter Status
To identify the issues to be considered at the main Hearing
To deal with any preliminary matters to be raised by Parties, Participants and Presenters
Any person who wishes to participate in this hearing as a Party, Participant or Presenter should provide their request in writing (preferably by email) by 4 p.m. no later than January 23, 2014 to:
Eva Pietrzyk
Case Coordinator/Planner
Environmental Review Tribunal
655 Bay Street, Suite 1500
Toronto, ON M5G 1E5
Email: eva.pietrzyk@ontario.ca
Tel: 416 314 4712 or 1 866 448 2248
Fax: 416 314 4506
This request must indicate:
Status sought as Party, Participant or Presenter
Statement of issues, facts and submissions relevant to the appeal
How the Bow Lake Wind Facility will cause serious harm to human health or serious and irreversible harm to plant life, animal life or the natural environment
Whether the applicant's interests may be directly and substantially affected by the Hearing or its result
Whether the applicant has a genuine interest, whether public or private in subject matter of the proceeding
Applicant's contact information including telephone, email and fax.
The main hearing will be February 25, 2013, at 11 a.m., also at the City Centre Travelodge.
Appeals were filed on December 31, 2013 by James Fata and 2401339 Ontario Ltd., regarding the construction, installation, operation, use and retiring of a Class 4 wind facility with a total nameplate capacity of up to 58.32 mw on Crown Land South of Smilsky and Peever, District of Algoma.
The Bow Lake Renewable Energy Approval was issued by the Director, Ministry of the Environment, on December 16, 2013 to Shongwish Nodin Kitagan GP Corp., and Shongwish Nodin Kitagan 2 GP Corp., as general partners of Nodin Kitagan Limited Partnership and Nodin Kitagan 2 Limited Partnership under section 47.5 of the Environmental Protection Act.
Developers for the Bow Lake wind facility also include DP Energy, Vortex Power and BluEarth Renewables.
*************************