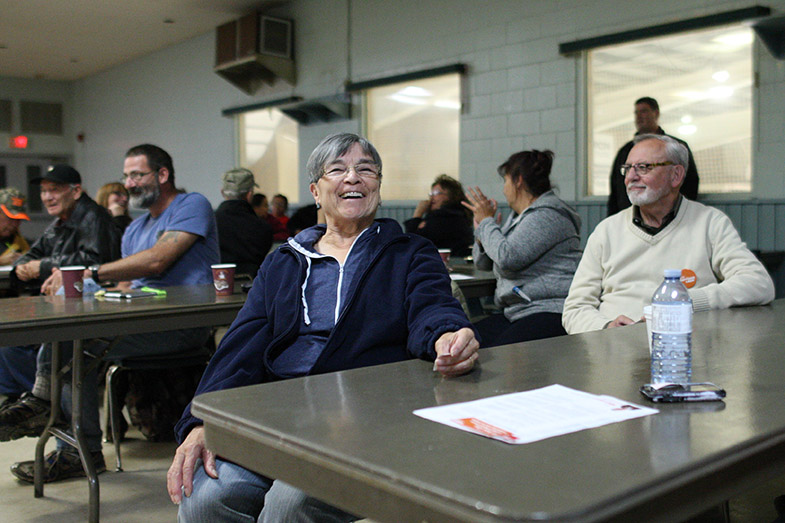 For the first time ever, a campaign event for a Canadian federal election was held on Batchewana First Nation territory.
Candidates for the Sault Ste. Marie riding were invited to speak to members of the band in a town-hall meeting at Rankin Arena on Thursday night.
About 30 people attended.
The founder of Rally the First Nation Vote, Tyrone Souliere, underlined how historic the meeting was.
"They wouldn't even let people come in and campaign on this reserve before," said Souliere.
Rally the First Nation Vote began as a local Facebook campaign last February, but now has chapters in London, Saskatchewan and Manitoba.
Souliere, who is a member of Garden River First Nation, said the Rally the First Nation Vote group is backing the NDP in the upcoming election.
"The Liberals do have a good platform. We believe the NDP have a better platform. The Liberals also have a track record. They just can't unring that bill," said Souliere.
Among other policies, the Liberals introduced the White Paper in 1969 which proposed an abolition of the Indian Act and elimination of Indian status.
"They are part of the reason we are here today. If we want change there's no point voting for them because that is status quo," said Souliere.
Although Souliere said the Green Party platform aligns most closely with First Nations needs, Rally the First Nation Vote is not endorsing them for this election.
"The Greens are just not big enough for us to back because we want change now," he said.
Liberal candidate Terry Sheehan, NDP candidate Skip Morrison and Kara Flannigan of the Green Party were in attendance for the meeting.
An email from Bryan Hayes' office confirmed the incumbent Conservative Party candidate was invited, but with only two days notice was unable to attend.
"While Bryan could not be there in person, he encourages the Batchewana First Nation and all residents of Sault Ste. Marie and area to get out and vote on October 19," said Emily Hillstrom, press secretary for the Hayes campaign.
Batchewana First Nation Chief Dean Sayers said he believes the decision to encourage his people to vote in the upcoming federal election was the right one.
He admits not everyone in the community is convinced voting in the Canadian election is the right thing to do.
"I grew up with a lot of elderly people who were adamant that we don't vote in that election. It's not our government, we have our own," said Sayers.
The chief said he couldn't pass up the ability to contribute to the process of determining who sits across the table in discussions between Canada and First Nations.
He said promises were made by current Prime Minister Stephen Harper when he met with chiefs, and those have since been broken or unfulfilled.
"I had my pessimism, but I also had my optimism. At the end of the day, nothing has changed in four years," said Sayers.
He said his attitudes toward voting began to change when he was told the ability to vote in Canadian elections was awarded to First Nations with no compromise of indigenous or treaty rights in 1960 under John Diefenbaker's Progressive Conservative government.
"I have voted and I think it is a good measure to vote," said Sayers.
He noted an Elections Canada polling station will be set up at the Rankin Arena on Batchewana First Nation territory for the first time in recent memory.
Sheehan said he was encouraged after speaking to First Nations people who have promised to vote for him in the upcoming election.
He said a Trudeau government would be one of mutual respect and trust with First Nations.
"I have been on First Nations speaking to people and attending events. I am not a stranger. And they appreciate that," said Sheehan.
He claimed the Liberals are best equipped to defeat Harper according to the latest poll data.
Morrison counters that polls are often not accurate, ignoring large segments of eligible voters.
"They are very inaccurate and often are outdated. They often forget to reflect the large portion of undecided voters," said Morrison.
While speaking to the crowd, Morrison utilized conversational Ojibwe words, a language he is teaching himself.
"I have been wanting to learn it more, but I am picking up words as I go," he said.
Former NDP MPP Bud Wildman sat in the crowd in support of Morrison.
"Going back 25 years ago, when he was minister he established the concept of government to government relations between Ontario and First Nations," said Morrison of Wildman.
"He is an amazing, knowledgable, experienced mentor. I can't say enough good words about the man. He is held in high esteem by so many people throughout the province, and especially First Nation communities," said Morrison.
Souliere said it has been a challenge bringing the First Nation communities together to vote as a block.
"A lot of people don't understand, First Nations are separate nations. We're not the same. The Cree aren't Ojibwe and the Ojibwe aren't Mohawk. It's not easy for us to come together," said Souliere.
He said there isn't one single obstacle to convince his people to vote.
There are many obstacles. There are many reasons people don't vote, so you have to address all of those. One of them is apathy. One is ignorance and another is people not wanting to get involved in another nation's politics, because we are sovereign," said Souliere.
Whether the thousands of First Nation voters in the riding will make a difference this election is still to be seen.
"The only poll that matters is election day," said Sheehan.
(PHOTO: An attendee reacts to a speech made during an all-candidates meeting at Rankin Arena Thursday Night as part of the Rally the First Nation Vote initiative. Kenneth Armstrong/SooToday)