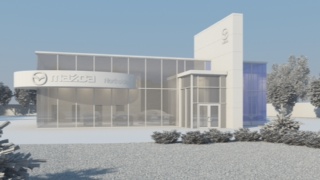 Northside Mazda will be moving into a new building late in 2014, if all goes as planned says Northside Mazda Dealer Principal Mario Palumbo.
Folks driving by Northside Toyota on Great Northern Road will notice work going on as the old GCR Tire shop at 783 Great Northern Road is being demolished.
That's where the new, nearly 10,000 square-foot building will be located, Palumbo said.
Construction is due to begin on the new home for Northside Mazda sales, service and show room on June 1 and Palumbo says, if all goes according to plan, it should be complete and ready to open in late November.
The building (shown in the above architect's rendering) will look much like other Mazda Canada buildings, be energy efficient and house all the latest technology related to parts, service, showing and sales.
This evening, Palumbo said he wanted to address some rumours he's been hearing.
"People have been saying we are closing but nothing could be further from the truth," he told SooToday.com . "In fact we're moving forward with construction of a brand new state-of-the art building."
Palumbo also told SooToday.com that the Mazda dealership is still open for business in its current location (803 Great Northern Road) so all existing clients and anyone thinking of buying a Mazda can continue to access the team's sales and service there.