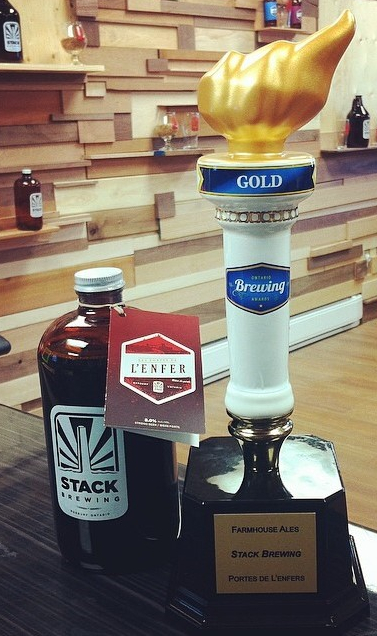 NEWS RELEASE
STACK BREWING CORP
*************************
Stack Brewing wins gold at the 2014 Ontario Brewing Awards
On Thursday April 3, while in attendance at the Ontario Brewing Awards Gala in Toronto, Stack Brewing [of Sudbury] was awarded Gold for their Biere de Garde, Les Porte de L'Enfer.
Ontario Brewing Awards (OBAs), currently in its 11th year of honouring the fine beers and brewers throughout the province, annually invites brewers to share their passion for brewing locally made beer with the drinkers of Ontario.
The Ontario brewing industry continues to grow and this market is the largest in Canada and one of the most competitive.
"We couldn't be happier about this win", said Shawn Mailloux, owner of Stack Brewing. "We haven't even been open for a full year and are already receiving tremendous provincial recognition for our quality craft beer. We're proud to bring this award home to Sudbury", said Mailloux.
Les Porte de L'Enfer pours a deep amber colour with pleasant caramel notes accompanied with a little warming on the palate from the alcohol.
Biere de Garde (beer for keeping) was originally brewed in Belgian and French farmhouse nearly 600 years ago and it was traditionally brewed in the spring with a high alcohol content to last the summer without refrigeration.
*************************