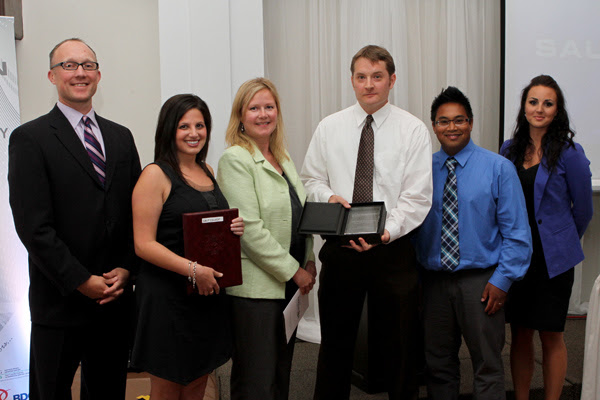 NEWS RELEASE
SAULT STE MARIE INNOVATION CENTRE
*************************
The Sault Ste. Marie Innovation Centre (SSMIC) today announced that nominations are now open for the organization's ninth annual SSMARt Innovation Awards.

Each year, the awards honour the best and brightest in the science and technology sectors within the Algoma region.
This year's event is being held during a formal afternoon luncheon and awards ceremony on September 12 from 11:30 a.m. to 1:30 p.m. at the Comfort Suites and Conference Centre.
Deadline for nominations is Monday, August 25 at 5 p.m.

SSMIC will honour regional companies and influential individuals within the community for their innovative use of science and technology throughout the past year.
An external panel of judges will score nomination applications and winners in eight award categories will be announced during the event.

Prospective nominees are asked to submit nomination applications in one or more of the following award categories (self-nominations are welcomed):

"We receive feedback, each year, on how impressive the innovation and talent is within this community," said Tom Vair, Executive Director, SSMIC. "We welcome area businesses, entrepreneurs, educators, and students to put forth nominations to help us recognize and showcase innovation achievements in the Algoma district."

Previous winners include: Sault College as Innovation in Web and Social Media 2012, Jeff Elgie as Innovation Leader of the Year 2013, N-Sci Technologies as Innovation Company of the Year 2013, Wishart Library and Shingwauk Residential Schools as Innovation Project of the Year 2013, Sault Area Hospital as Innovation Project of Year 2012, and Dr. Basil Arif as Innovation Leader of the Year.

Nomination application forms are available by visiting www.ssmic.com.

The industry leaders, entrepreneurs and post‐secondary students of the science and technology sectors are creating future economic opportunities for the province of Ontario and its northern communities.
Members of the community are invited to join us and show their support by attending the luncheon and awards ceremony.

Tickets include lunch and door prize draw.
For tickets, please visit SSMICawards2014.eventbrite.com.
For questions, or information on sponsorship opportunities, please contact Diana Medaglia at 705.942.7927 x. 3138 or dmedaglia@ssmic.com.
*************************