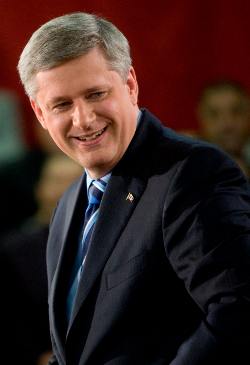 While the leaders of G7 countries have expressed concern over Russian troops surrounding Ukraine following pro-West demonstrations in that country, and more recently, what they consider an illegal Russian occupation of Crimea, Prime Minister Stephen Harper is taking an extra step in showing solidarity with Ukraine by making a visit to the troubled country today.
The Prime Minister's Office announced March 14 that Harper will travel to Ukraine to meet with its interim Prime Minister Arseniy Yatsenyuk to discuss how Canada can continue to provide support to the country.
Canada recently announced $220 million in financial aid for Ukraine, which is designed to be part of a larger aid package from the G7.
Harper arrived in the Netherlands Friday to attend a meeting of the Nuclear Security Summit, ahead of an official visit to Germany early next week.
Harper will make a quick visit to Ukraine on Saturday.
Canada has condemned what it calls "Russia's illegal occupation of Crimea" and has expressed support for the Ukrainian government as it prepares for presidential elections in May.
While agreements made between Russia and Ukraine following the breakup of the Soviet Union do indeed allow Russia to maintain a degree of military and naval presence in and around Ukraine, Russia's actions, and those of Russian President Vladimir Putin, are considered by the international community to be hostile.
As a member of the Conservative caucus, Sault Ste. Marie MP Bryan Hayes told SooToday.com: "I believe it (Harper's visit) says a lot about his statesmanship...nobody does it better as far as I'm concerned."
"The Prime Minister and Canada itself is looked upon as a very, very strong world leader and the Prime Minister is making a statement here."
"We as a government went on record immediately condemning what Putin was doing and this is substantiating that condemnation by actually travelling to Ukraine."
G7 leaders have spoken of imposing economic sanctions against Russia, but to date, very little has been done with the exception of freezing the assets of some Russian officials and imposing some travel restrictions.
Imposing tough sanctions on Russian energy imports into European Union countries, for example, is easier said than done, as Europe relies heavily on Russian gas.
"They (the Europeans) certainly have some dependency, it's very complex, we'll have to look at what type of trade is being done from Russia and go from there," Hayes said.
Harper's visit to Ukraine follows a January visit to Israel where he impressed Israeli leaders with vows of unwavering Canadian political support in Israel's ongoing struggle with its enemies.
Hayes said: "The Prime Minister's travel schedule is absolutely unbelievable, how he travels the world promoting Canadian values and our businesses…he's a real world leader, there's no doubt about it and he continues to prove it all the time."