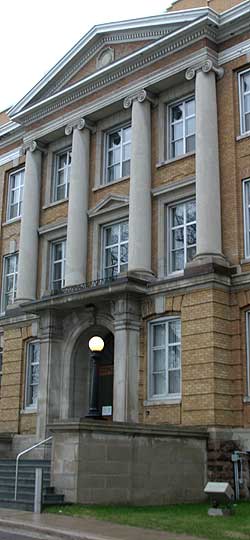 A judge sentenced Cynthia Jacobs to a two-year conditional sentence, including 15 months house arrest and a standing restitution order for the money Jacobs admitted she took from Algoma University to feed her gambling addiction.
Jacobs' attorney, Don Orazietti, expressed satisfaction with the decision, which will see his client avoid a jail sentence.
"I think it shows that in some cases the facts are not as they appear," he said outside the courtroom.
Ontario Court Justice Melanie Dunn opted for a conditional sentence of two years less a day for Jacobs, which would include 15 months of strict house arrest, followed by three years probation.
Other terms of the decision include: Jacobs must perform 250 hours of community service; remain away from Algoma University, the former employer whom she defrauded of $391,000 over a six-year period to feed her gambling addiction; also remain away from any Ontario Lottery and Gaming casino; and continue with her counseling and treatment for her gambling addiction.
During the final nine-months of Jacobs' conditional sentence, she must abide by a curfew between 10 p.m. and 7 a.m.
Dunn also ruled that there would be a free-standing restitution order for $391,000 in favour of Algoma University.
Orazietti said it would be up to Algoma University to decide if it wants to take further action against his client, but noted that Jacobs is not in a financial position where she is able to pay the money back.
On that point, Dunn said in her written decision, "Although there is a sincere willingness to make amends, there appears little hope of full restitution. I do know [Jacobs] is certainly willing to do volunteer work or community service hours for [Algoma] University, however, the employer does not appear receptive to that."
Crown Attorney, Dana Peterson, who had asked for a jail term of 18 months, followed by three-years probation, and full repayment of the stolen funds, said she was not able to comment on the court decision this morning.
Among the mitigating factors, cited by Dunn in making her decision, were the facts that Jacobs, 54, was a first offender, had entered a guilty plea, and was both remorseful and humiliated by her actions that had "destroyed her reputation in the community".
The judge also noted that Jacobs suffers from a gambling addiction that was diagnosed as extreme or pathological during a residential treatment program she attended in 2013.
"She suffers from a gambling addiction," Dunn wrote. "The monies were taken for that purpose and not for greed or to live a lavish lifestyle."
Dunn also noted that under a 2011 amendment to the Criminal Code, there exists a mandatory minimum sentence of two years imprisonment for fraud over one million dollars.
For large scale fraud under that sum, however, such as in the Jacobs' case, a conditional sentence "is not excluded from consideration" when there are "exceptional mitigating circumstances".
Dunn added: "A conditional sentence, with punitive conditions, can satisfy general deterrence."
*************************
Additional SooToday.com coverage of this story:
Crown argues Cynthia Jacobs should be jailed
Algoma U. responds to fraud charges laid against former employee
*************************
Editor's note: Comments on the above article have been disabled due to persistent inappropriate postings. SooToday.com's View Room is available for general discussions. Please read our Terms of Service before commenting on any comment section of SooToday.com.