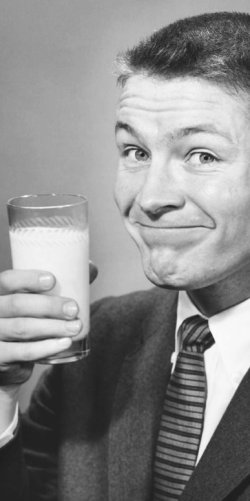 If your milk soured after learning about the alleged abuse of dairy cattle on a large scale farm in Chilliwack, British Columbia this June, you need not worry about the mistreatment of dairy cattle in Algoma District, according to local authorities.
John Hawdon, chair of Algoma Dairy Producers, who, runs a family dairy farm on St. Joseph Island with his brother, said there are between 18 and 20 dairy cattle farms in Algoma, including Manitoulin Island.
Nine of those dairy operators are situated in Algoma, one in Walford, and three in Massey, he said.
He estimated there are about six dairy producers on Manitoulin Island.
The largest of those farms has up to 150 head of cows, but the majority are much smaller.
They are responsible for providing all the milk to our area.
Hawdon said he was distressed by the undercover video taken by a member of Animals for Mercy that purportedly captured eight employees of Canada's largest dairy farm with over 3,500 head of cattle, according to national media reports, beating cows with rakes, and pipes after hauling them in the air with chains around their necks.
All eight employees subsequently were fired, but criminal charges of animal cruelty against them have not been laid yet, although media reports suggest they are pending.
There have been serious consequences, however, for the farm owner, who has had his contract with Saputo, the Montreal based giant dairy company, suspended.
As well, close to 100,000 B.C. residents have signed a petition boycotting milk from Chilliwack Cattle Sales, in the aftermath of the alleged abuse.
"There was no excuse for abusing those animals," Hawdon said. "If the cows aren't happy, you are not going to get the milk. It's the same with people. If you don't treat people right, they aren't going to work with you.
On our farm, it's my brother and me, and we know the cows by name."
Cindy Ross, manager of the Sault Ste. Marie Humane Society, which has the responsibility of enforcing regulations under the Ontario Society for Prevention of Cruelty to Animals Act, said the local organization has not had to respond to allegations of dairy cow cruelty in the Algoma District during her tenure.
"I can tell you in the Sault, honestly, in my 13 years here, we have never had a situation with a producing farm."
Ross did acknowledge, however, that the local Humane Society does respond daily to reports of animal abuse in the area.
She added that under the existing legislation they do not have the legal right to "just show up and inspect someone's facility" because that is something the OSPCA Act does not allow.
Barbara Cartwright, CEO of Canadian Federation of Humane Societies, told CBC radio's, The Current, that incidents of random cruelty to farm animals, such as occurred at Chilliwack Cattle Sales, are "sadly no longer surprising. That is what should disturb Canadians most. Over the last 18 months, we've seen the same atrocious conditions time and time again on veal farms, turkey farms, chicken hatcheries, egg farms, and pig farms. It seems to be systemic across all industries and it needs to be cleaned up. We need to make our farms safe for animals."
She argued that there needs to be routine third party inspections of farms to ensure standards in farm industry codes of practices are used, and to prevent animal cruelty before it happens, rather than reacting after incidents are reported.
"We have a reactive complaint system in Canada," she said. "Humane Societies have to receive an actual complaint before they can investigate."
While Ross agreed the local Humane Society does not have the right to inspect farms in Algoma unless they receive a complaint, she noted that all the dairy farms in this area are small family-run operations which do not employ many hired workers as happened at the B.C. dairy farm.
She noted also that the Humane Society has a very good relationship with the local large-animal vet, who is legally obligated to report any incidents of animal abuse to them.
"I am quite confident that because we don't have large scale dairy farms in our area, we don't have those issues," Ross said. "It comes down to big producers who try to squeeze every last penny out of their animals, and when they're doing that, that is when the animals suffer."
Hawdon, however, pointed out that because Ontario has a supply management system in place for milk production that lower price demands from consumers is not an issue locally.
"With supply management, we get a decent price for our milk."
He said the biggest challenge locally comes from nearby Michigan which can offer Canadian consumers lower prices for their milk because, unlike Ontario dairy farmers, they are subsidized by the government.
Meanwhile, Crystal Mackay, executive director of Farm and Food Care Ontario, disagreed that large scale farm operations are more prone to mistreatment of its livestock.
She said one of the principal goals of her organization was to work with farmers, and farm organizations, including the dairy farmers in Algoma, to improve animal welfare through education and introducing new research findings from academics at universities like Guelph University.
Mackay, who was raised on a family farm in the Ottawa Valley, said the size of the farm is less important than the culture promoted by the owners and management.
"I've toured farms of all sizes, and absolutely big scale operations can work," she said. "It's the people's attitude and management's attitude that is most important. It is not about the size of the operation."
Mackay pointed out, "A 100 years ago, 50 percent of our population farmed. Now, only two percent of our population farms. We have larger operations."
A critical key in big farm operations, she stressed, is to hire the right people, and to ensure they are properly screened and trained.
She said there have to be proper standards and procedures in place for when something goes wrong, and with animals, something will always go wrong.
For the past few years, the organization has promoted an animal care code of conduct that must be signed by all farm workers.
Employees must sign the document that obligates them to accept that animal abuse will not be tolerated, and to report immediately any animal abuse they witness.
Mackay said as a farm girl herself she was extremely upset by the animal cruelty at Canada's largest dairy farm in June.
"It absolutely does not have to happen, and it does not reflect how farmers care for their animals. I take it personally, and I think it is sad because it made national news and reflects badly on every type of farmer across Canada because some individuals chose to break the law," she said. "I work and live with farmers everyday, and nobody cares more about farm animals including my own family. The cows come first. Dairy farmers particularly. They always say they are married to the barn."
Mackay disagreed also that we need routine third-party inspections of farm operation, calling it "police state thinking".
"You could have an inspector come in the morning and someone could beat a cow that afternoon," she said. "I think that hiring the right people, training and instilling the right attitudes, which starts at the top with the farm owners, is the key."
Cartwright, however, on behalf of the Canadian Federation of Humane Societies, called on both levels of senior government, to put more teeth into existing regulations and laws, that have not been updated in close to two decades.
She lauded the dairy farmers in Canada for creating standards of practice for its members but said they remain voluntary, and would not come into effect until 2018, far too long, she said, for most Canadians to wait.
Cartwright said too that the federal government has stepped away from changes to the criminal code of Canada because powerful farm industry groups have lobbied successfully against those changes.
She told CBC: "Parliament has been blocking significant updates for almost two decades now to the Criminal Code of Canada with regard to animal cruelty. One of the big pieces is that industries ask for exemptions. Farmers need to be upheld to the Criminal Code of Canada."
Meanwhile, Susan Murray, a spokesperson for Ontario's Ministry of Agriculture, Food and Rural Affairs told SooToday that while her ministry works closely with farmers and farm organizations, they do not have the authority under existing regulations to investigate alleged incidents of animal cruelty.
She said that responsibility lies with humane societies under Ontario's SPCA Act who can respond to any complaints they receive from the public or veterinarians.
She stressed, however, that while there are always "bad apples" in any profession or vocation, "the vast majority of farmers know that treating animals cruelly is not taking care of their investment."