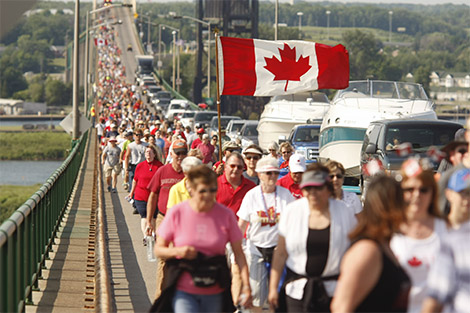 It was a beautiful day for a walk Saturday morning, especially for those participating in the 28th annual Bridge Walk between Sault Ste. Marie, MI and Sault Ste. Marie, Ont.
The walk was immediately preceeded by a bicycle parade in which one female rider was injured after falling from her bicycle and required assistance to get off the bridge.
Buses were available to shuttle Canadians to the US side prior to the event, and were later used to return Americans over the border crossing after the walk.
The number of participants in the almost five kilometer walk was not immediately available from the International Bridge Administration.
(PHOTO: Participants walk along the almost 5 kilometer span during the International Bridge Walk held June 28, 2014. SooToday.com/Kenneth Armstrong)