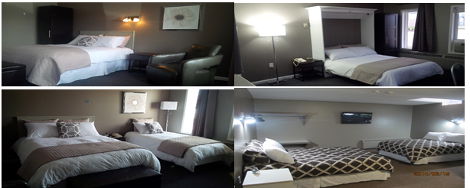 NEWS RELEASE
MAGPIE RELAY MOTEL
*************************
The Magpie Relay Motel in Dubreuilville Ontario is now open for business.
The Magpie Relay Motel has recently opened its doors to business travellers, tourists and Dubreuilville patrons.
Our 16 room complex has just gone through a full renovation.
New bathrooms, new furniture, new amenities.
We offer Free Wi-Fi, Free Movies, 43 inch flat screen televisions, work desk area and have fitted the rooms with mini-refrigerators for longer stays.
The Motel offers different room configurations such as Queen only rooms, Double Double bed rooms, Kitchenette rooms with Murphy Beds and joining rooms for greater mobility and space requirements.
The rooms have been configured with the Power Sports enthusiast in mind with areas to dry your clothes, a game room/person cave for gatherings and a work bench to fix your favorite toy.
We have also added a new heated 25 x 40 foot toy storage garage where you can store your snowmobile, motorcycle or ATV overnight so that it is nice and warm in the morning.
The motel offers Sauna, Whirlpool and access to some of the best trails in Northern Ontario.
The Magpie Relay Motel welcomes short and long terms stays. For reservations or room rates please call 1-705-884-2909 or via our web site www.magpierelay.ca
Enjoy our friendly French Canadian hospitality, spend a night or two and enjoy comfort away from home.
*************************