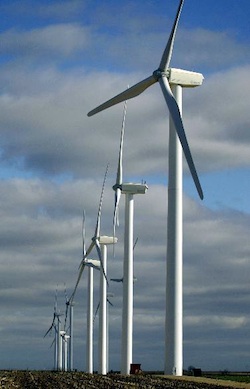 The Ontario Ministry of the Environment (MOE) December 16, 2013 approval of the Bow Lake Wind Farm project will be appealed.
In a statement issued Friday, Save Ontario's Algoma Region (SOAR) spokesperson Gillan Richards and Lake Superior Action Research Conservation (LSARC) Co-Chair George Browne indicated James Fata and 2401339 Ontario Ltd. (a corporation resident in Ontario) will request the Environmental Review Tribunal (ERT) revoke MOE approval of the Bow Lake Wind Farm.
The Bow Lake Wind Farm project is a partnership between Nodin Kitagan of Batchewana First Nation (BFN) and Calgary's BluEarth Renewables.
Bow Lake, a plan for 36 wind turbines, is to be located on traditional BFN land approximately 80 kilometres north of Sault Ste. Marie.
Groups such as SOAR and LSARC have long been steadfastly opposed to wind farm development in the Sault and Algoma region, insisting wind turbines are hazardous to human health and wildlife, an environmental disruption, and an unnatural eyesore on the ruggedly beautiful Algoma landscape.
SOAR and LSARC say Fata will challenge MOE's approval of Bow Lake on constitutional grounds, questioning whether the project's approval has violated his right to security of the person as granted under Section 7 of the Canadian Charter of Rights and Freedoms.
The outcome of another SOAR and LSARC-supported appeal of a separate project, the Goulais Wind Farm, is expected by April.