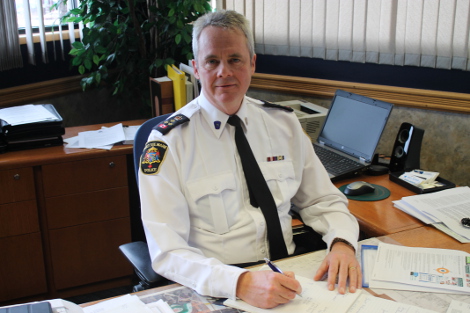 The Sault Ste. Marie Police Service will announce who its new Chief will be early next week.
That from Ian MacKenzie, Sault Ste. Marie Police Service Board Chair, after Thursday's board meeting.
"We're in the final stages (of the hiring process)," MacKenzie told SooToday.com.
The short list of candidates for the job is "very, very short…we had seven candidates, excellent candidates," MacKenzie said.
MacKenzie said those candidates were from both within the Sault Police Service and from other communities.
In February, the board announced Toronto consulting firm Odgers Berndtson had been brought in to help find a new Sault Police Chief.
"They were very much involved with us in searching (for a new Chief)," MacKenzie said.
Odgers Berndtson has had considerable experience in assisting in the hiring of Police Chiefs across the province.
Outgoing Police Chief Bob Davies announced in December 2013 he would be retiring effective June 30, 2014.
Davies, born and raised in Sault Ste. Marie, was hired by the Sault Ste. Marie Police Service in 1976 and has served as Chief since December 1996.