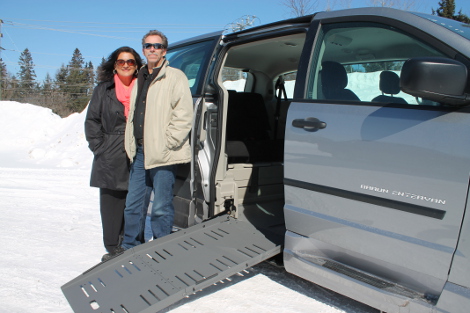 Another transportation option will soon be available for Sault Ste. Marie's disabled.
Home and Health Mobility's Lise Moncion and Peter Miser (pictured) have leased two new, modified 2014 Dodge Grand Caravans and will provide a new service to get disabled customers to and from important appointments.
The vans have been modified to be wheelchair accessible.
Moncion told SooToday.com: "I've been working at the Davey Home as a nurse for the past nine years, and I see the need."
"Peter and I were discussing what services the community needs, we've been doing our research and here we are."
The vehicles will soon be marked with Home and Health Mobility decals, with all special equipment serviced, when necessary, by Shoppers Home Health Care Seating and Mobility Consultant Rob Stopar.
Home and Health Mobility, a new, locally-owned company recently granted with a license to operate its vehicles by the Sault Ste. Marie Police Service, will have its office located at 377 John Street.
Home and Health Mobility's office will be open March 17, with the company's first official driving date March 31.
The vans will run from 7 a.m. to 7 p.m. Monday to Friday, 8 a.m. to 4 p.m. Saturdays.
The office will receive calls from 8 a.m. to 4 p.m. Monday to Friday at 705 575 9968, and will also be reachable by e-mail at homeandhealthmobility@yahoo.ca
The company's website is still in the development stage, Moncion said.
Moncion said it will be advisable to call one day in advance to arrange transportation, but added it is possible the company will eventually be able to provide same-day service.
For Saturday runs, customers will definitely have to call Home and Health Mobility at least one day in advance to arrange transportation, as the office itself will be closed Saturdays.
The City of Sault Ste. Marie offers Parabus service for people in wheelchairs or those with other physical disabilities.
Gateway to Mobility is the only other private transportation provider for the disabled in Sault Ste. Marie.
"We've hired staff, an office clerk and one full-time driver so far, and we're still in the process of looking to hire our second full-time driver and one part-time driver," Moncion said.
Miser emphasized: "We're taking extra time to find the right people to be drivers…we want people who are going to show that extra care and that extra time, so that our customers are happy."
Moncion added that Home and Health Mobility's services will be strictly for people in wheelchairs, electric wheelchairs or scooters who cannot access conventional transportation.
Miser told us the Home and Health Mobility cost of a round trip (to Sault Area Hospital, for example) will be $60.