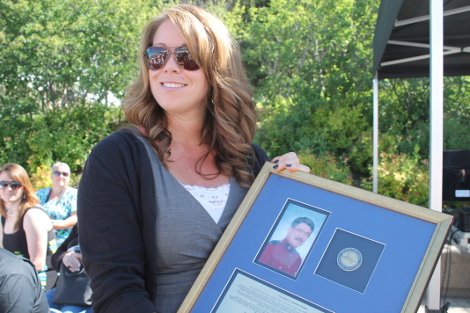 Melanie Carriere (pictured), daughter of the late RCMP Constable J.L. Francois Carriere, was in attendance at Roberta Bondar Park Thursday for the official dedication ceremony of a new Canadian Coast Guard vessel named in her father's honour.
Constable Carriere was a member of the RCMP stationed in Cape Breton, Nova Scotia, who died November 30, 1997 while performing an underwater search of a vessel believed to have been smuggling illegal drugs.
The CCGS Constable Carriere is the fourth of nine new Hero Class vessels (named for decorated soldiers, veterans, police officers and employees of Fisheries and Oceans Canada and the Canadian Coast Guard) to join the Canadian Coast Guard fleet.
Members of the Carriere family, Sault Ste. Marie MP Bryan Hayes and a host of law enforcement officials were in attendance at Thursday's ceremony.
Among law enforcement officials present were Mario Pelletier, Assistant Commissioner of the Canadian Coast Guard Central and Arctic Region and Superintendent Guy Rook, RCMP district commander North East district.
Other RCMP officers, and officers with the OPP, Sault Police Service, Canada Border Services Agency and both Canadian and U.S. Coast Guard personnel were present.
Reverend Phil Miller, RCMP chaplain, led the prayer of dedication and a moment of silence for those lost at sea.
Melanie Carriere christened the vessel with the traditional breaking of a sacrificial bottle of champagne over the ship's bow.
Carriere family members were then taken on a tour of the ship.
The CCGS Constable Carriere is a 43 metre long mid-shore patrol vessel, which, along with other Canadian Coast Guard mid-shore vessels, will patrol the Great Lakes and St. Lawrence Seaway to enhance national security and respond to potential threats.
Mid-shore vessels like the Carriere can also operate up to 120 nautical miles offshore if necessary and can spend up to two weeks at sea without re-provisioning.
The Coast Guard is responsible for operation of the ship, while the RCMP is responsible for the law enforcement aspect.
Sault MP Bryan Hayes gave a dedication speech on behalf of Gail Shea, Minister of Fisheries and Oceans.
RCMP Superintendent Guy Rook also delivered a speech in tribute of Constable Carriere and his service to the RCMP.
The federal government, since 2009, has delivered several new vessels to the Canadian Coast Guard, such as mid-shore patrol vessels, a hovercraft, search and rescue lifeboats and near-shore fishery research vessels, environmental barges and other small craft.
SooToday.com will be adding more photographs of Thursday's ceremony later.