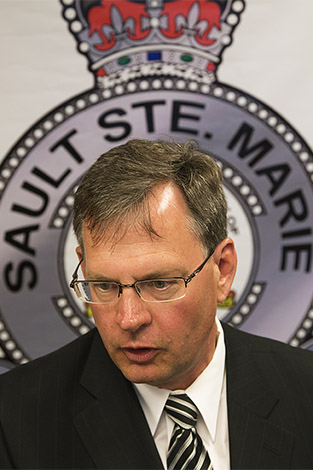 Robert Keetch spent many summers in Sault Ste. Marie, and remembers dipping his toes in the Lake Superior water.

"I didn't know water could get that cold," said the Sudbury police inspector, who was introduced as the new chief designate for the Sault Ste. Marie Police Service during a press conference Wednesday.

Keetch is not simply dipping his toes into his upcoming job, he is currently selling his Sudbury home and hopes to finish out his policing career as chief in the Sault.

Having grown up in North Bay and spending most of his life in Sudbury he feels an attachment to the north and notes that his mother was raised in Sault Ste. Marie.

Keetch will be sworn in as chief at a ceremony June 16 at the Civic Centre, current Chief Bob Davies will retire on June 30.

"We will kind of have two chiefs, but he will be the officer in charge of this organization as of the sixteenth," said Davies.

Recently Keetch spent time in Sault Ste. Marie helping to create the new Community Resource Centre on Gore Street by sharing his knowledge in community policing models.

"Yes, we have a core responsibility in regards to enforcing the laws and holding offenders accountable but we also have an opportunity to work collaboratively with the community and make Sault Ste. Marie safer for all residents," said Keetch.

After serving as chief for 17 years, Davies, 58, is looking forward to retirement.

"I am pleased that I am turning over an organization that doesn't need any fixing," said Davies, who adds that he has a long to-do list of chores waiting for him at home once he retires.

When asked about who he will cheer for when the Soo Greyhounds play the Sudbury Wolves, Keetch says he will continue the tradition where the chief in the losing community wears the other's jersey.

""Hey, you live in the Sault you have to root for the Greyhounds," said Keetch.

Davies sees the transition period as more of an orientation for Keetch, who he feels is up for the job.

"I tend to think I am a very well-rounded candidate. I've got experience in investigations, I have uniformed experience, I have community policing experience and a profile within the province," said Keetch.
(PHOTO: Chief Designate Robert Keetch speaks to media after a press conference June 4, 2014. SooToday.com/Kenneth Armstrong)