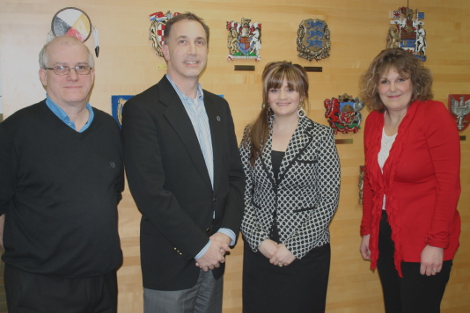 Mark Barsanti was officially sworn in as the Sault Ste. Marie Chamber of Commerce President at Monday's City Council meeting.
Pictured at the Civic Centre Monday are Chamber Treasurer Ron Spadoni, Barsanti, First Vice President Monica Dale and Chamber General Manager Shelley Barich.
Barsanti's term as President will run through to summer 2015.
Barsanti, who left Sault Ste. Marie in 1999 in what he described to Council as "a very challenging time" for the community, owned and operated Canadian Tire stores in several Southern Ontario communities before returning to the Sault as owner and operator of the Sault's Canadian Tire store in 2012.
In his address to Council, Barsanti said municipal leaders need to encourage "entrepreneurship, opportunity and prosperity," with a special focus on cutting bureaucratic red tape in order to let Sault Ste. Marie's young entrepreneurs establish or expand their own businesses.
Acknowledging the growing number of seniors in the community, Barsanti told Council it is crucial for the Sault's young people to succeed in business so that those seniors (and children) can be well taken care of with the wealth generated by successful businesses.
If young people aren't allowed to succeed in business, Barsanti told Council, an already bad "crisis of youth" will get worse, noting that industrialist Francis Clergue made his fortune in Sault Ste. Marie when he was still in his 30s.
Barsanti pointed out that in terms of being "business friendly," Sault Ste. Marie placed 41st out of 73 Canadian communities with a population of less than 150,000 in one survey, and ranked second last (behind North Bay) as a business friendly community in a survey of Northern Ontario communities.
Barsanti urged City Council to start a closer working relationship with the Sault Ste. Marie Chamber of Commerce in order to make this community "the best in Canada" in which to do business.
Speaking to SooToday.com, Barsanti said: "We have to start off with a more consultative relationship between the two groups (the Chamber and Council), where we help them and they help us."
Barsanti said: "In other communities the amount of red tape businesses must go through to open or expand is minimal, there are cities where decisions that affect business are good and predictable, and not sporadic."
"There can't always be something wrong with every business venture," Barsanti told us.
Barsanti did not specifically state he personally feels that Sault Ste. Marie's City Council has done anything to stifle the entrepreneurial spirit of the Sault's young people, but said: "For sure land development is an issue…it seems quite difficult to expand property, a lot of zoning issues here in the Sault."
"There are issues with land rezoning, licensing, NIMBYism…sometimes you have to take unpopular decisions that are good for the community as a whole, and that's a difficult thing for City Council to do in a small community."
Repeating his theme that the community's young entrepreneurs must be encouraged, Barsanti told us: "It's not people in their 50s, 60s and 70s that are going to rebuild the entrepreneurial spirit in this community because those people are in a different phase in their lives, it's the people in their 20s and 30s that we have to look to."
"I don't think there's any one specific thing that would keep youth here and develop that entrepreneurial spirit…(if there was) that would have been done by now, but there has to be a shift in the manner in which businesses are welcomed and the amount of bureaucracy that business has to go through compared to other communities."