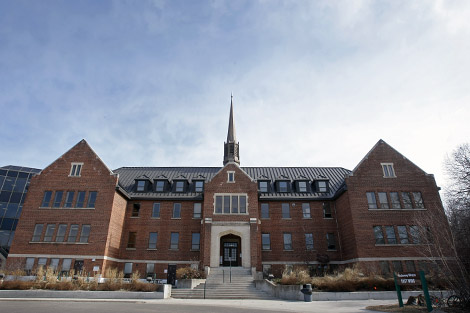 NEWS RELEASE
ALGOMA UNIVERSITY
*************************
Businesses Encouraged to Apply to Utilize Algoma U BBA Students' Marketing Talents
Do you own or operate a business in Sault Ste. Marie and need an Internet marketing strategy?
Algoma U students will once again be working with local businesses to develop and enhance their Internet presence through websites, eMarketing strategies, or via social media.
As part of the ADMN4937 course, "Marketing on the Internet", students will examine the integration of the Internet in an organization's marketing strategy.
Topics of the course include online marketing, customer communications, interactive Internet pages, and customer service issues.
Students will work in groups of three to four to develop an extensive Internet marketing campaign that will benefit a local business or non-governmental organization by building their profile.
The partnership between Algoma U and the organization comes at no cost to the organization.
"Over the summer, students from Algoma University's Sault Ste. Marie campus and satellite programming in Brampton will be working with local businesses to developing their online marketing strategies. By working with local businesses, students will learn how to develop eMarketing strategies for actual clients while supporting the economic development of their community. This opportunity also builds relationships and provides a networking opportunity for students with local businesses," said Shannon Rosset, Professor of the course.
In order to utilize the talents of Algoma University's business students, businesses must apply by contacting Rosset, Professor of ADMN4937, at shannon.rosset@algomau.ca.
Please include the company's and contact's name, a brief description of what the business uses in regards to Internet marketing, and what the organization hopes to gain from this consultancy.
Owners and managers must be available for an hour meeting with students (either in person or via Skype) within the first three weeks of May.
They must also be available for a one-hour final consult at the end of July with students, followed by a 30 minute meeting with the course instructor.
Those interested should contact Rosset no later than Monday, May 5, 2014.
While all businesses are encouraged to apply, students will have the final decision on what consultancy they wish to choose for their group.
About Algoma University
Algoma University offers a wide variety of liberal arts and sciences degree options including programs in Psychology, Social Work, Computer Science, Business Administration, Fine Arts, Community Economic & Social Development, and Biology in Sault Ste. Marie, Brampton, Timmins and St. Thomas.
As a partner with Shingwauk Kinoomaage Gamig, Algoma U is committed to respecting Anishinaabe knowledge and culture.
Algoma University has launched its Essential Elements Campaign to expand its campus and offer more scholarships and awards to students. To learn more, visit www.algomau.ca.
*************************