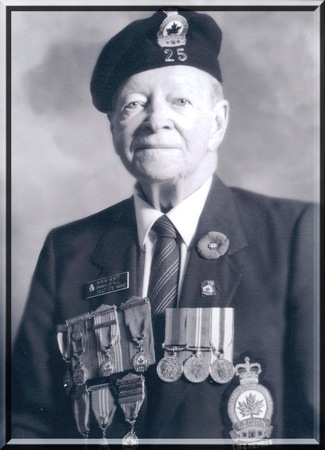 SooToday.com received the following announcement today from the Arthur Funeral Home and Cremation Centre regarding Air Force veteran and former Sault Ste. Marie Justice of the Peace, Myron Hewitt.

***************************
HEWITT, (Jacob) Myron (January 14, 1924 ~ February 13, 2013) - What a wonderful life, 89 years filled with love, health, family and friends.

Nearly 69 years spent with the love of his life Dorothy.

Together they raised four children; Maureen Maggini (late Aldo), Diane Bergeron (Ivan), Randy (Bonnie), Pamela Hewitt-Hall (Greg).

He was a very proud Papa to his grandchildren; Todd (Jennifer), Nicole (Michael), Brooke (Ron) and Kaitlynd.

He adored his great grandchildren Brianna, Jacob Ari, Ashlyn and Ryder.

Lovingly remember by his "adopted daughter" Christine Finn (Tony).

Myron was very proud to have served his country in the Air Force (Halifax) so we may enjoy the freedom we have today.

As an Air Force veteran, he was well respected for his integrity and honesty.

Papa believed in giving back to the community, he volunteered to many organizations throughout the years.

Papa dedicated many years of his life here in Sault Ste. Marie to the Canada Mortgage and Housing Corporation (CMHC) and serving as a Justice of the Peace.

Thank you to all the care providers who helped Myron throughout the last few years.

A special thanks to Rhonda and Josh.

A gathering of family and friends to celebrate his life will be held at the Arthur Funeral Home and Cremation Centre on Saturday, February 16 from 11:30 a.m. until 1:30 p.m.

Funeral service will be held in the chapel at 2 p.m.

Rev. Dr. David Zub officiating.

Memorial contributions to the SAH Foundation or the Sick Kids Hospital would be appreciated.

Expressions of sympathy may be offered at www.arthurfuneralhome.com.



At the going down of the sun
And in the morning
We will remember them.

Members of the Royal Canadian Legion are requested to assemble at the Arthur Funeral Home and Cremation Centre on Saturday, February 16, 2013 at 2 p.m. for a memorial service for the late Myron Hewitt.

***************************