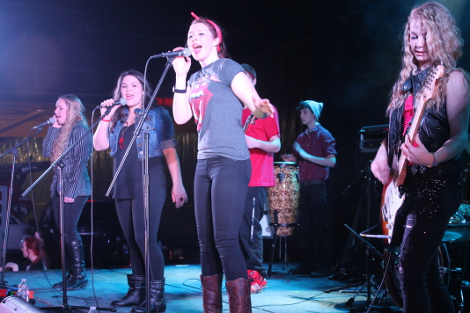 After performing for the first time at a Bon Soo event last year by taking part in the winter festival's opening ceremonies, the talented young Sault Ste. Marie singers and musicians of Korah Collegiate's Mustang Sally wowed an audience of approximately 300 people at a full-length concert given at the Canadian Bushplane Heritage Centre Saturday evening as part of this year's Bon Soo festivities.
The concert opened with several songs performed by The Pine Tones, the impressive group of young singers and musicians from White Pines Collegiate.
Mustang Sally performed songs by a wide range of groups and artists made famous throughout the decades of pop music, from the Paul McCartney and Wings classic "Band on The Run" to more recent material from Pink and Katy Perry.
Mustang Sally was created in 2004 by Korah Collegiate's Music Department Director Greg Ryckman, who was formally trained in music at the University of Western Ontario and, before his teaching days began, toured Canada as a rock musician.
Mustang Sally's lineup changes partially each year as Korah's students graduate from high school, and since its creation ten years ago the group has given many top-notch performances both locally and elsewhere in Ontario, with some of its members having gone on to careers in the entertainment industry.
Ryckman, speaking to SooToday.com, told us the group has given nearly 1,000 performances since 2004, with close to 300 students having been involved with Mustang Sally over the past 10 years.
Stating that the Bushplane Centre's acoustics for Saturday's show were "awesome," Ryckman said: "I get phone calls all the time from parents of students who want to transfer their kids to Korah from other high schools in the Sault, because their kids want to join the group."
Ryckman said: "When we first started, we did 75 to 100 performances a year, but now that we're a credit course we run at about 25 to 40 performances a year, not including our end-of-the-year tour…in the spring we'll have a tour in Southern Ontario, with five gigs lined up down there."
Ryckman expressed appreciation for the help given by fellow Korah instructors and parents of Mustang Sally's members in the operation of the group's activities, including event coordination, merchandising, and technical issues as well as good, solid "Mom" support.
Ryckman said 17 Korah students were involved in Mustang Sally's Saturday show, nine of them singers and musicians, the rest involved in "backstage" technical support roles, as well as event coordination and merchandising for the group.
Ryckman said: "This year we have five vocalists, drums and percussion of course, keyboards, bass and our phenomenal lead guitarist Tammy Hill who is very advanced for her age…she blows your mind."
"Without a doubt, everyone on that stage has what it takes to be a professional, a star."
Mustang Sally vocalist and keyboardist Stephanie Cowley, a Grade 12 Korah student who joined the group two years ago, gave inspiring performances of many songs throughout the evening, telling us her favourite song is "Forty Six & 2" by Tool.
Speaking to SooToday.com, Stephanie showed no signs of pre-performance jitters.
"This is my biggest gig, and we're going to do very well."
Bon Soo Winter Carnival Manager Kerrie De Poli, who emphasized her appreciation to New York Fries for sponsoring Saturday's show, told us: "This event is great because Bon Soo is very much about supporting local talent and artists, and what better example than this wonderful organic program by Mustang Sally."