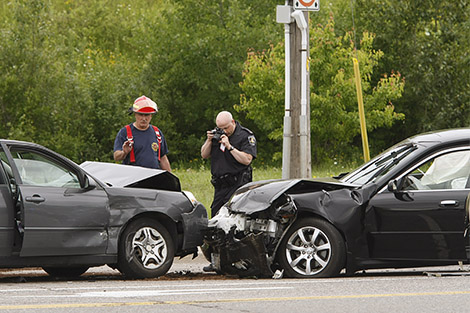 Four vehicles were involved in a multi-vehicle collision early this afternoon on Second Line at Carmen's Way.
One car appeared to have hit another head-on, causing a chain-reaction of collision with a third car behind the car that appeared to have been hit lightly.
The two vehicles involved in the head-on collision received extensive front-end damage, a fourth vehicle was stopped in the intersection with front-end damage.
Traffic was slowed along both lanes of Second Line and northbound Carmen's Way as police diverted traffic around the scene.
Police say two persons were taken by ambulance to hospital for treatment of non-life threatening injuries and the investigation is continuing.
(PHOTO: Two vehicles experienced extensive front-end damage during a multi-vehicle collision July 8, 2014 on Second Line at Carmen's Way. SooToday.com/Kenneth Armstrong)