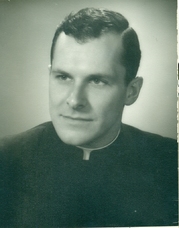 Msgr. Raymond Henry Farrell: 1928-2014

Son of the late Josephine Henrietta Buschmann and Maurice Joseph Farrell. Born on June 16, 1928 in Port Colborne, seventh of ten children.

Father Ray attended Copper Cliff Public and High Schools and graduated from Western University in 1950 with a philosophy degree.

He completed his theology studies at St. Peter's Seminary in London, Ontario and was ordained on May 27, 1954 in North Bay.

His first solemn Mass was celebrated on May 30, 1954 at St. Stanislaus Church in Copper Cliff.

Father Ray was a curate at the Pro Cathedral of the Assumption in North Bay from 1954 to 1956.

He was then assigned to Elliot Lake where he was responsible for the building of Our Lady of Fatima Church and established a parish.

In 1967 he was assigned to Blessed Sacrament Parish in Sault Ste Marie where Bishop Alex Carter bestowed upon him the title of Monsignor.

He opened the House of Our Lady of Hope, a centre for spiritual growth.

He then became pastor of Christ the King Church in Sudbury from 1981 to 1987.

From there he was transferred to Our Lady of Perpetual Help Parish where he initiated a continuous 24-hour adoration of the Blessed Sacrament.

Father Ray was predeceased by his siblings, Father Francis S.J. (Darjeeling, India), Rita (North Bay), Patrick M.D. (Sudbury), Margaret Cainen (Dartmouth, N.S., husband Larry predeceased), Maurice M.D. (Sudbury, wife Ginny Hamilton predeceased).

He is survived by Sister Mary Farrell C.N.D. (Kingston), Rose Heffernan (the late Burt, North Bay), Bernadette (Montreal), Maureen (Sault Ste Marie), sister-in-law Barbara Farrell (Sudbury).

He is also survived by 19 nieces and nephews and 35 great nieces and nephews.

Special thanks to our niece Martha and husband Wayne Auchinleck who with their loving dedication gave of their time and care to Father Ray.

Also, to his family, friends, parishioners, your love and concern is deeply appreciated; and finally thanks to the caregivers at St. Joseph's Villa and Finlandia Village.

Father enjoyed his family, friends, his camp on Lake Little Penage, cribbage, golf and hockey.

Funeral Mass at Our Lady of Hope Church, 591 Brennan Road, Sudbury, Monday, April 14, 2014 at 10 a.m.

Cremation with interment in the family plot at the Sudbury Catholic Cemetery.

Friends may call 2-5; 7-9 p.m. Sunday at the church with vigil service at 7:30 p.m. Sunday.

In lieu of flowers, donations to the Alzheimer's Society Sudbury-Manitoulin, St. Joseph's Foundation of Sudbury, Finlandia Village or the charity of your choice would be greatly appreciated.

Arrangements entrusted to the Lougheed Funeral Home.