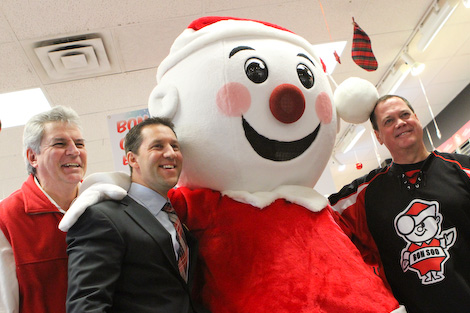 A new and improved Mr. Bon Soo was revealed today at the official Bon Soo Store located within the Athlete's Foot in the Station Mall.
As children and passers-by waved to the familiar winter carnival mascot, both MP Brian Hayes and MPP David Orazietti announced new funding to help celebrate Bon Soo's 50th annual event.
"This is the second-largest winter carnival in all of Canada, which is really incredible. That's something Sault Ste. Marie should be very proud of," Hayes said. "The Government of Canada and Minister James Moore are also very proud of Sault Ste. Marie and for this year's 50th anniversary of Bon Soo, they have announced $20,700-worth of funding to assist in the event."
"It's is about the kids and the families who take tremendous pride in enjoying Bon Soo, all it has to offer, and the 75 events throughout the community that make winter a great experience in Sault Ste. Marie," Orazietti said. "I also want to recognize all of the volunteers and the folks that make Bon Soo happen. This is one of the most significant volunteer activities in Sault Ste. Marie. The volunteers give so much of their time that make these events a success, to put all of the programs together that everyone enjoys."
The Province of Ontario and the Ministry of Tourism and Culture is committing $27,000 in support for the 50th Bon Soo Winter Carnival.
Accompanying David Orazietti at today's funding announcement was Provincial Liberal Party leadership candidate, Sandra Pupatello, who was happy to meet Mr. Bon Soo and receive a complimentary Bon Soo button.
News releases issued today by Bon Soo and the office of MPP David Orazietti follow.
**************************
50th Annual Bon Soo - February 1 to 10, 2013
OLG presents the 50th Annual Bon Soo, February 1 to 10, 2013.

The Board of Directors are happy to share a sneak peek at the coming carnival.

Full event listings will be released January 9, 2013.

Exciting concerts

New York Fries presents tributes to One Direction and Carly Rae Jepsen - tickets still only $12, Saturday, February 2, 2013 - get yours at the Athlete's Foot!

OLG Presents 50 Years of Music on closing weekend.

The show will begin with a one-hour performance by The Jersey Kid, a tribute to Franki Valli and the Four Seasons, followed by a one-hour show of a series of artists from "50 Years of Music" performing hits from the last 50 years.

This show will be a feast for the eyes and ears with cutting edge production, multimedia, sound and lights, and the biggest hits of the last 50 years!

Tickets at the Essar Centre now - $24.50 - see you on February 9th!

Allow us to introduce - The Marquee

Bon Soo has partnered with students in the Public Relations and Event Management program from Sault College to design and develop this new, interactive entertainment space.

The Marquee will put a spotlight on performances by a variety of community members and groups, including musicians, dancers, actors, and cultural groups.

If you are interested in performing at the Marquee, please call the Bon Soo office or email snow@bonsoo.on.ca.

The Marquee will run throughout the festival, during the Tim Hortons Winter Playground hours

The Marquee… where the arts come to life!

Three of the great events that will be part of Bon Soo 2013 are:
The return of the Northside Toyota Bon Soo Ball Hockey Tournament, a great fundraiser for charity. Register now!
The Athlete's Foot SnowSpike is back. This is a classic Bon Soo event and a great chance to play in the snow.
The Bon Soo 50th Anniversary Committee is proud to bring back SnoMadness. Registration is already half full, so don't miss your chance to be a part of this classic event.
More details available at bonsoo.on.ca

Direct questions to snow@bonsoo.on.ca

Bon Soo is for You! Bon Soo est pour vous!
**************************
Orazietti announces $27,000 for Bon Soo Winter Carnival
Province further strengthens local tourism and job creation
SAULT STE. MARIE – The Ontario government is investing $27,000 to support Sault Ste. Marie's Bon Soo Winter Carnival and help further boost tourism and local job creation, David Orazietti, MPP announced today.
"The province is continuing to support local festivals and events because we recognize the economic importance of investing in the tourism industry in Sault Ste. Marie," said Orazietti. "Our tourism strategy in northern Ontario is helping local residents enjoy accessible and affordable activities, while also attracting more out-of-town and out-of-province visitors who provide a financial boost to a wide range of local businesses."
In 2012, Celebrate Ontario funding helped support 203 festivals and events across the province.
Provincial support for Ontario's tourism sector helps festivals and events enhance programming and services that strengthen local economies, create jobs and foster a better quality of life for local families.
The Bon Soo Winter Carnival will be celebrating its 50th anniversary this season.
Bon Soo is Northern Ontario's largest winter carnival and hosts more than 75 events for everyone from pre-schoolers to seniors who can participate in indoor events, outdoor events, concerts, breakfasts, contests and tournaments.
"Bon Soo is delighted to receive this grant from Celebrate, Ontario," said Kerrie De Poli, manager of Bon Soo. "This funding strengthens us as a Winter Tourism driver in our Community. We appreciate the advocacy of David Orazietti and this support from the Ontario Government. Bon Soo is ready to welcome the world to Sault Ste. Marie!"
Quick facts
Since 2007, Celebrate Ontario has supported nearly 1,000 events across Ontario
Every year, festivals and events generate more than 22,000 jobs in Ontario
Tourism is an important part of Ontario's economy generating over $23 billion and supporting over 300,000 jobs
Learn more
**************************